OS
Pellegrini confirms backroom staff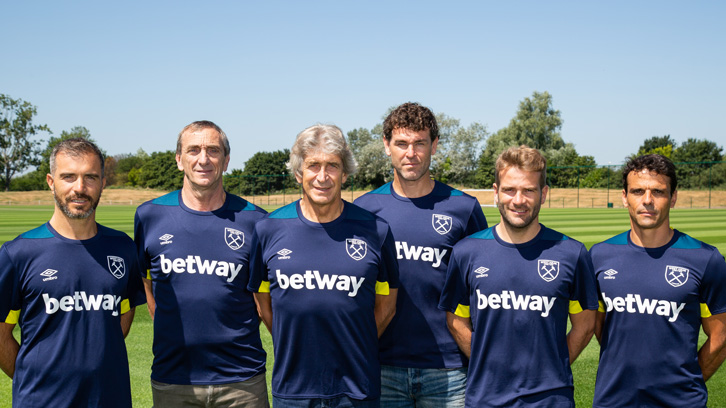 West Ham United manager Manuel Pellegrini has confirmed the makeup of his new backroom staff at London Stadium.
The Chilean, who took charge in May on a three-year contract, will be assisted by his long-time number two Ruben Cousillas and highly-rated coach Enzo Maresca, while the experienced former Real Madrid and Liverpool goalkeeper coach Xavi Valero will assume the same role with the Hammers.
Fitness coach Jose Cabello will be reunited with Pellegrini after working with him at Malaga, Manchester City and Hebei China Fortune. Cabello himself will be assisted by Portuguese Felix Cao, who was also on Pellegrini's staff in China.
Pellegrini is delighted to have put together a strong team to assist him as he embarks on his tenure at London Stadium.
"My backroom staff are hugely important to me, as they have been throughout my managerial career," said the 64-year-old. "I know they will play a pivotal role in helping the team prepare and perform to the best possible level.
"As a group, and as individuals, they bring with them a lot of experience and know-how as well as a great understanding of how we want to do things. These are all important factors in putting a successful team on the pitch, which is what we are all striving for.
"I'm delighted we are going to be working together again as we enter an exciting time at West Ham."
Read more at https://www.whufc.com/news/articles/2018/june/30-june/west-ham-united-manager-pellegrini-confirms-backroom-staff#Hl0MPo8062pBcMPb.99
Argentinian Fuse, 61, enjoyed a successful playing career in South America before joining forces with Pellegrini at San Lorenzo in 1998. Since then, he has assisted the Chilean wherever he has been, winning titles in Argentina, Spain and England.
"I have known Ruben for 20 years, so we know each other and work together very well, which is very important when you are working in an environment like football," said the manager. "We began our work with San Lorenzo and have developed together with River Plate, Villarreal, Real Madrid, Malaga, Hebei China Fortune and now West Ham United."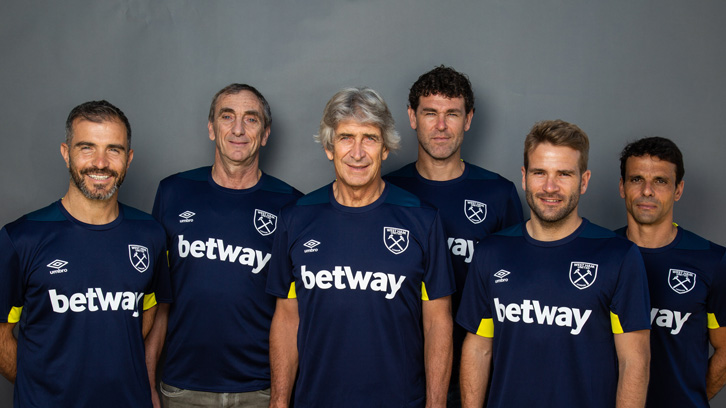 Manuel Pellegrini with (left to right) Enzo Maresca, Ruben Cousillas, Xavi Valero, Felix Cao and Jose Cabello
Italian Maresca, 38, began his professional career as a midfielder with West Bromwich Albion as a teenager before impressing for a host of top European clubs, including Juventus, Fiorentina, Sevilla and, under Pellegrini's guidance, Malaga. He began his coaching career with Ascoli before returning to Seville to work with compatriot Vincenzo Montella.
"Enzo played for me at Malaga and I was immediately impressed with the way he looked at the game in great detail," Pellegrini confirmed. "We have remained in contact as he has started his coaching career and I am looking forward to working with him again here in England."
Valero returns to English football, having previously spent five seasons with Liverpool and one with Chelsea with fellow Spaniard Rafa Benitez. The 45-year-old also worked with the goalkeepers at Valencia, Inter Milan, Napoli and Real Madrid during Benitez's time there.
"Xavi is one of the best goalkeeper coaches in the world," Pellegrini observed. "He has studied the art of goalkeeping and worked with top players at top clubs like Valencia, Real Madrid and Liverpool, helping both the goalkeepers and the strikers. He knows England and the Premier League well, too."
Finally, the manager is also looking forward to working with fitness coaches Cabello and Cao, having done so previously at his former clubs.
"Jose and Felix are talented physical trainers who I have great faith in," he said. "I worked with Jose in England, Spain and China, while Felix joined us for the first time in Hebei China Fortune, and look forward to working with them both again here at West Ham."
The Club have also appointed a new Head of Medical in the shape of the experienced Richard Collinge.
The highly-qualified Collinge, a Chartered Physiotherapist with a Master's degree in Sports Physiotherapy, has previously worked with Crystal Palace, Brentford, Cardiff City, Wigan Athletic, Watford and the Scotland national team.
"I am looking forward to starting my new role as Head of Medical in a Club as huge and steeped in history as West Ham United," said Collinge. "The start of pre-season, when I get the chance to meet the staff and players, cannot come around quickly enough."