BBC
Barcelona could include their 28-year-old France forward Antoine Griezmann in a deal to re-sign Brazil forward Neymar, 27, from Paris St-Germain next summer. (Le10Sport - in French)
Tottenham have made Leicester City and England playmaker James Maddison, 22, their number one target to replace 27-year-old Denmark international Christian Eriksen, whose contract with Spurs expires at the end of the season. (Mirror)
Chelsea are hopeful defender Fikayo Tomori, 21, and striker Tammy Abraham, 22, will sign new contracts in the next few weeks. The pair have both been included in Gareth Southgate's England squad for Euro 2020 qualifiers later this month. (Standard)
Chelsea are also about to open contract talks with 31-year-old Brazil forward Willian, whose current deal expires at the end of the season. (Express)
Manchester City have no interest in signing 20-year-old Norway midfielder Martin Odegaard, who is on loan at Real Sociedad from Real Madrid. (Manchester Evening News)
Manchester City boss Pep Guardiola says 29-year-old right-back Kyle Walker, who has again been left out of the England squad for Euro 2020 qualifiers later this month, could find his place in his side under threat from Joao Cancelo if the 25-year-old Portugal international continues to impress. (Times - subscription required)
Liverpool keeper Loris Karius, who is on loan at Besiktas, says he could play for the Reds again when his spell in Turkey finishes at the end of the season. The 26-year-old German also suggested he could move to another Premier League team or return to his homeland. (Guardian)
Ajax have removed the £26m release clause in Morocco winger Hakim Ziyech's deal as part of the 26-year-old's contract renewal with the club. Ziyech has been linked with Arsenal, Manchester City, Manchester United and Real Madrid. (AS, via Telegraaf)
Everton boss Marco Silva says England Under-19 forward Anthony Gordon, 18, is close to being handed a chance in the first team. (Liverpool Echo)
Manchester United are monitoring the progress of Club Leon's 20-year-old Mexico striker Jose Juan Macias, who has been labelled 'the next Javier Hernandez'. (Marca via Express)
West Ham are interested in 20-year-old Bolivian midfielder Daniel Camacho, who plays for local side Club Aurora. (Diez via Sport Witness)
Real Madrid considered appointing former Chelsea boss Antonio Conte as their manager following the sacking of Julen Lopetegui last year, but decided against it on the advice of captain Sergio Ramos. (Fichajes.net via Mail)
Manchester United have scouted 22-year-old Russian forward Aleksandr Sobolev, who plays in his home country for Premier League side PFC Krylia Sovetov Samara. (Mirror)
Mexican consortium Orlegi Sports, led by multi-millionaire Alejandro Irarragorri, came close to buying Newcastle this summer before pulling out of the deal and investing in Mexican side Atlas instead. (Chronicle)
Meanwhile, a consortium led by former Manchester United and Chelsea chief executive Peter Kenyon is stepping-up its £300m bid to buy Newcastle. (Sun)
Anderlecht boss Vincent Kompany is eyeing a move for Wales defender Ashley Williams when the 35-year-old's Bristol City contract expires in January. (Sun)
Former Tottenham and Arsenal defender Sol Campbell and ex-Celtic and Barcelona striker Henrik Larsson have been interviewed for the vacant Southend manager's job. (Sky Sports)
Croatia striker Mario Mandzukic, 33, a Manchester United target, is among three players Juventus will look to sell this January. (Calciomercato - in Italian)
A leaked document has revealed how much Real Madrid fine their players for breaking rules such as being late for training or using their mobile phone while in the team bus or dressing room (Marca)
Former England and Chelsea left-back Graeme Le Saux has linked up with British tennis star Andy Murray, who is looking to expand his sports management agency into football. (Times - subscription required)
I added this story very late yesterday, so I'm putting it in again:-
Sport Witness
West Ham initiate contact to sign midfielder – Decision to be made on transfer today
By Sean Lunt
West Ham United are interested in the signing of Bolivian midfielder Daniel Camacho, according to several reports in the country.
Eju! claim that the Hammers are keen on the 20-year-old, and have already been in contact with current club The Strongest about a move.
Diez back that up, saying that the Bolivian club will decide on the potential transfer today, adding that Camacho wants to make the move to the London Stadium.
This has all been confirmed by the club's president, Ines Quispe, who, while not namechecking West Ham, confirmed that he's spoken to a club.
"A representative from the English club (West Ham) called me to let me know that they are interested in Daniel Camacho," he claimed.
"The offer is for a sale. We've agreed that I will check the player's contract and the conditions in which he is on loan with Aurora.
"For The Strongest, it is a great joy that international clubs see the club as a showcase. We already have Henry Vaca playing in Peru. It is a great satisfaction for us."
Camacho is currently on loan at Bolivian side Aurora from The Strongest and Eju explain that is how the transfer has come about.
Aurora's current goalkeeper Agustín Cousillas is the son of Rubén Cousillas, who just so happens to be Manuel Pellegrini's assistant at West Ham United and that's where the interest in Camacho has originated from.
There's no mention of a transfer fee from either newspaper, although it is explained that Camacho would be a signing for West Ham's Under 23 side, with Eju! stating he is 'one of the most outstanding young players in the country.'
Sun
Man Utd should get rid of greedy Paul Pogba as he demands £30m a year to stay, says Karren Brady
Exclusive By Karren Brady
GREAT players are at the heart of the best football.
But reports that Paul Pogba wants £600,000 A WEEK to remain with Manchester United beyond his current contract made me wonder what kind of reality we are straying into.
The amount might well be a negotiating ploy by his agent, Mino Raiola.
United already have form for bludgeoning players with pound notes and might see Raiola's demands as an opening ploy in an auction for the France international's future after 2021.
The club's culture has changed as the old certainties of superiority changed.
Sir Alex Ferguson always acted on the basis that no one was bigger than the club.
If he thought someone thought that, he sold him.
And to make the mix doubly toxic, I believe the signing of Alexis Sanchez opened a can of worms the size of pythons
If it's a fact that United were paying Sanchez £500,000 a week or anything like that, the Chilean's team-mates certainly believed something distinctly unfair was going on.
David De Gea, Pogba and even the placid Marcus Rashford were soon demanding something like equality.
They were well aware that United paid no fee as Sanchez was swapped — surprise, surprise — for Raiola man Henrikh Mkhitaryan.
Sanchez, a star at Arsenal, was a scuttling nobody at Old Trafford, out of place and soon out of the team.
To the men who held a deflating side together such as goalkeeper De Gea, the wage seemed both an insult and a negotiating tool.
He has settled for a reputed £375,000 a week, 21-year-old Rashford for £250,000.
I have no idea if these sums are true but even to me they are eye-watering.
United had to subsidise Sanchez's loan move to Inter Milan.
It must be a worry for on-site boss Ed Woodward that a player of this class could not be integrated into the team structure.
The same went for Romelu Lukaku, another who couldn't match up to the United style which, I'll add because I'm no judge except — OK, I am on The Apprentice — that the sternest critics say they can't find one, anyway.
What absentee owners the Glazers make of all this we don't know, as they never tell us.
Still, never mind the club are tenth in the Premier League and already 12 points off bitter rivals Liverpool, they must have been rubbing their hands in glee at the club-record revenue of £627.1million that was announced last week.
Unquestionably, executive vice-chairman Woodward is a financial whizz-bang and much admired by his colleagues in the Prem.
But while the cash rolls in, the points don't and Pogba is a target for fans.
Many believe he is not contributing to the bite factor needed in United's midfield and reel at tales he now wants £30m-a-year.
If that happens Pogba might be tempted to replace the current pink slash along his parting with one of gold, or even platinum.
Raiola is said to have made £41m from the original United deal.
That's by acting for United, selling club Juventus, Pogba and himself. Yes, the chubby chap is big on his own portion.
At last, oh Lord, at last, the football authorities are going to rein in these wolfish agents.
The lunacy that allows them to act for both clubs is about to end.
Commission fees will be limited to three per cent for buyers and six per cent to sellers.
But the shocking news for Raiola is Pogba will have to pay directly on his agreement to the agent — and there is no way on earth he is going to hand over £25m.
Pogba might yet become as good as he thinks he is. But not, I suspect, with United.
My advice is simple. Tell him to clear off as West Ham did with Marco Arnautovic.
In the end he was just a greedy pest.
OS
Gonçalo Cardoso: The experience so far is incredible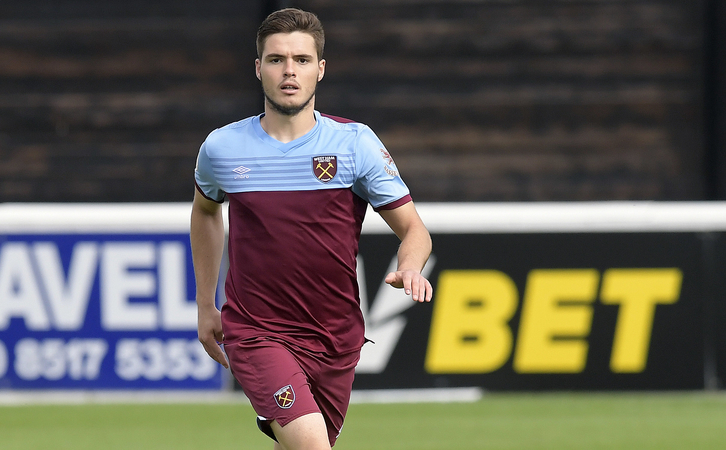 West Ham United's youngest recruit this summer was 18-year-old Gonçalo Cardoso. The Portuguese defender signed from Boavista in early August, becoming the Hammers' fifth signing of a busy off-season period.
Since then, Cardoso has spent his time adapting to English football in the U23s, becoming a fixture at the heart of defence for an Academy side that remains unbeaten this season.
The centre -back has gone about his business with composure that belies his tender years, and has already begun forming friendships with teammates and staff alike.
"The experience so far has been incredible," said Cardoso. "Everyone has received me so well.
"The dressing room is such a nice group, with amazing players who have lots of experience. I've been learning a lot and all the staff and coaches have helped me a lot in the first couple of months."
For many, the move to London at such a young age would be daunting, but Cardoso has wasted no time in settling into his new surroundings, despite the clear differences from his native home.
"In my hometown of Marco De Canaveses there are only 10,000 people," he laughed. "You can imagine the difference when you compare it to London.
"My family have been over a couple of times and we have seen the London Eye, Big Ben and Tower Bridge! I've got a lot more to see, but it seems like an incredible city."
One salient challenge for the Portuguese U19 international has been learning the English language, but a South American influence in the Hammers' dressing room has gone some way to bridging any early communication gap.
"I've been learning English but, of course, when you speak in your native language it is much easier and you have much more confidence," he admitted.
"Felipe Anderson has helped me as he is Brazilian. Fabian Balbuena speaks Portuguese, and there are other players who help me as well."
Last season, Cardoso made 15 appearances in the Primeira Liga – Portugal's top-flight division – for Boavista, and the ball-playing centre-half was full of praise for his native country's youth system.
"Some years ago, it was more difficult in Portugal to break into the first-team but now there are a lot more opportunities," he said.
"At Boavista, I had the confidence of the coaches, staff and the President. It's good for young players to feel that confidence and feel that they are believed in. Even though you are young, you can still do it."
While the defender continues to develop with the U23s, his sights are set firmly on making the step up into the Premier League.
"For me, the Premier League is the best league in the world. It's another level in terms of speed. Everything is faster here, it's a dream.
"I work every single day; I try and work every single day and do the best that I can to give the manager another option."
In the Premier League era, the country's influence on English football has been undeniable, and Cardoso has revelled in watching two former Premier League stars in particular.
"When I was really young, I used to enjoy watching Carvalho," he said. "Even in his last years, Carvalho's career was at clubs like Real Madrid and Monaco.
"I love Cristiano Ronaldo as well. He doesn't play my position, but he is a hero of mine. His motivation and how he works… it's incredible."
That conscientiousness is evident in Cardoso's appearances for the U23s, as he continues to help the team push for promotion in the Premier League 2 Division 2; Dmitri Halajko's side currently sit three points clear at the top of the division with seven games played.
Showcasing salient potential, however, Hammers fans can almost certainly look forward to seeing more of Cardoso in a Claret and Blue shirt in the future.