BBC
Manchester City's German international winger Leroy Sane, 24, is moving closer to a £70m move to Bayern Munich. (Mirror)
Premier League clubs will meet on Friday to discuss whether the season can be completed by 30 June. If put to a vote, 14 of the 20 clubs would need to agree. (Guardian)
Barcelona want to sign Chelsea and France midfielder N'Golo Kante, 29. The Blues may suggest a swap deal with Brazil winger Philippe Coutinho, 27, who is currently on loan at Bayern Munich from the Catalan club. (Mundo Deportivo - in Spanish)
Chelsea are interested in signing AC Milan captain and Italy centre-back Alessio Romagnoli, 25. (Calciomercato - in Italian)
Bayer Leverkusen and Germany midfielder Kai Havertz, 20, says he is open to a move abroad, with Liverpool among the Premier League clubs interested. (Sport Bild - in German)
Chelsea and France striker Olivier Giroud, 33, is willing to take a pay cut to secure a move to Inter Milan this summer. (Gazzetta dello Sport - in Italian)
Manchester United and Argentina defender Marcos Rojo, 30, wants to extend his current loan spell in his homeland at Estudiantes as he has been limited to one appearance for them - a result of injuries and the league being suspended because of coronavirus. (Manchester Evening News)
Italian giants AC Milan have decided not to make an offer to sign England midfielder Adam Lallana this summer. The former Southampton player, 31, is out of contract at Liverpool at the end of June. (Mirror)
Arsenal could cash in on French striker Alexandre Lacazette at the end of the season, with Atletico Madrid keen to take the 28-year-old. (AS - in Spanish)
However, Arsenal could also lose Gabonese strike Pierre-Emerick Aubameyang, who is wanted by Real Madrid. The 30-year-old is wanted by Zinedine Zidane as an alternative to Inter Milan forward Lautaro Martinez - who is only interested in leaving Italy for Barcelona. (Sport - in Spanish)
Arsenal are close to completing a transfer, though, with 27-year-old French left-back Layvin Kurzawa close to finalising a free transfer from Paris St-Germain. (Daily Star)
Arsenal are in talks to sign Reims' French centre-back Axel Disasi, 22. (Daily Mail)
West Ham are contemplating a move for 24-year-old Napoli and Mexico winger Hirving Lozano. (Marca)
Leicester's Austrian defender Christian Fuchs, 34, is torn over whether to extend his stay at the King Power Stadium or move to the United States and rejoin his family. (Daily Mail)
Liverpool goalkeeper Loris Karius says he is still in touch with Jurgen Klopp while out on loan at Turkish side Besiktas but does not know where his future lies. The German, 26, is under contract at Anfield until 2022. (Sky Sports)
OS
Academy Spotlight: Oladapo Afolayan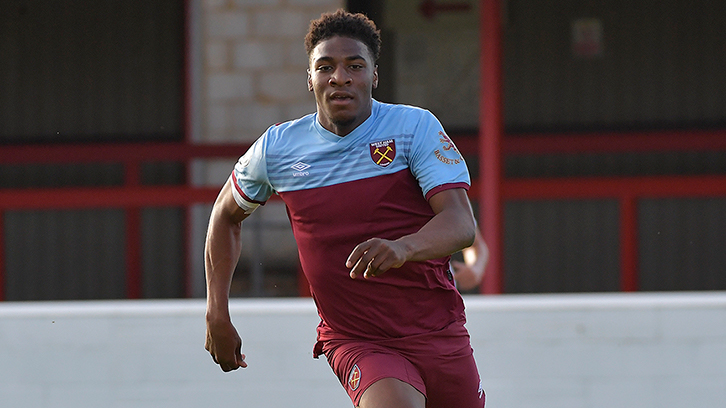 From hard work on the pitch to talking tactics on FIFA, meet 22-year-old striker Oladapo Afolayan...
My Roots
The first football team I played for was Harrow St Marys - I joined them as an Under-5, and I remember my school friend's Uncle was in charge of the team! My Dad has probably been the biggest influence on my footballing career so far. He encouraged me to play football all the time when I was growing up.
I only became a striker when I started playing at Non-League level. Non-League tactics were a bit different and I managed to cope with the physicality well and score quite a few goals. Growing up I was predominantly a winger because I was very small. When I and [Dan] Kempy were at Chelsea together, we were known as the small ones. I've had a growth spurt and he is still waiting for his!
The thing I struggled with the most growing up was my height, being constantly moved around in different positions because I wasn't big enough or strong enough back then. That was my biggest challenge.
My Inspirations
Thierry Henry and Freddie Ljungberg were my idols when I was younger. I grew up in North London and I remember for my seventh birthday party I dyed my hair red!
An individual performance that inspired me had to be Thierry Henry at the Bernabeu in the Champions League 2006. His whole game was just unreal.
I base my game on a couple of different players: I admire Jamie Vardy's work-rate, and I try to work as hard as he does. I also like other players like Edinson Cavani, who get into great areas with great movement. That's what I'm working on and trying to improve on.
My Teammates
My closest friend in the squad is probably Nathan Holland - him and [former West Ham midfielder] Joe Powell have got a group chat, the three of us!
The hardest workers are probably either Conor Coventry or Ben Johnson - though I'd like to say I'm up there as well! The most natural talent belongs to either Nathan or Alfie Lewis.
The practical joker of the squad is a tough one... Reece Hannam is funny! There aren't too many practical jokes though - the lads aren't at that level yet!
FIFA, Films & Food
My friends hate me because of how I play on FIFA! It's all about playing as Atletico Madrid. I go 1-0 up and defend!
I reckon we need to have a tournament soon amongst the lads. I rank near the top end of the squad. Louie Watson uses all the cheats - he's going to say he beat me, which he did to be fair - but he was cheating!
I also play Fortnite all the time. I only play FIFA if I'm playing against other people - because I'm too good at FIFA, I moved onto Fortnite! Most of the boys in the U23s squad play it, though some of the boys have gone off it. It's been out a long time, so we're the hardcore ones still sticking to it!
My favourite TV series is a tough one... I would say Game of Thrones, but they ruined the ending, so I'll say Billions! My favourite films are Now You See Me and Now You See Me 2 - you can't beat them - and my favourite music artist is Dave.
In terms of the food I eat, I'm not really a foody. I like Asian cuisine and then I like steaks as well, but I don't have a favourite food in particular. I used to go to the Chinese that's around the corner quite a lot - smoked shredded chicken and Singapore fried rice every time!
TBR
Marko Arnautovic suggests he would rejoin West Ham on Instagram
By Will Butcher
Marko Arnautovic left West Ham United last summer to join Chinese Super League side Shanghai SIPG but he has now seemed to suggest on Arthur Masuaku's Instagram that he wants to return to the London Stadium.
Arnautovic, who turns 31 on Sunday, joined West Ham in the summer of 2017 from Stoke City. He went on to have a hand in 34 goals during his 65 league and cup appearances – scoring 22 goals and laying on 12 assists.
However, the Austrian's spell at West Ham suffered towards the end of his second season – with the former Inter Milan ace making it clear he wanted to move to China, before any deal was actually completed.
Masuaku staged a live Instagram session on Wednesday evening and Arnautovic appeared in the comments, telling the Frenchman that he is keen on returning to the London Stadium – after just 16 goals and 10 assists for Shanghai SIPG.
He commented: "Tell them that West Ham need me, I come bro, no worries."
TBR's view – Moyes got best out of Arnautovic in first spell
He did just that, when Slaven Bilic previously struggled to do so. Having failed to score until Moyes took over, Arnautovic ended up with stats of 11 goals and eight assists in his first season for the Hammers – despite playing in numerous positions.
Now back in charge, Moyes needs a striker at West Ham with Sebastian Haller struggling and Albian Ajeti nowhere to be seen. Arnautovic knows what it means to play for the Hammers, and would hit the ground running with Moyes.
The Express claim West Ham sold him for £22million. But a move could be engineered, with Moyes a fan – after telling TalkSPORT in May 2019: "He could play for any team in the Premier League. He's strong, he's quick, he's a top player."