BBC
Brazil striker Neymar, 26, will have to take a pay cut of around £26m if he wants to move to Barcelona from Paris St-Germain this summer. (Mundo Deportivo - in Spanish)
Paris St-Germain have made tying down France striker Kylian Mbappe, 21, to a new contract their number one priority this summer despite suffering a drop in income because of the coronavirus pandemic. (ESPN)
Chelsea are set to step up their interest in Leicester's England full-back Ben Chilwell, 23. (Sun)
Inter Miami owner David Beckham has spoken to Real Madrid about the possibility of signing Colombia forward James Rodriguez, 28. (Goal)
Liverpool goalkeeper Loris Karius, 26, is set to join Wolves on loan for next season. (Fantatik - in Turkish)
Karius is close to cancelling his two-year loan contract at Besiktas and returning to Anfield early after a dispute over unpaid wages. (Guardian)
Newcastle's prospective new owners have made Paris St-Germain's Uruguayan striker Edinson Cavani, 33, a prime transfer target and also hope to appoint Massimiliano Allegri or Mauricio Pochettino as manager. (ESPN)
Arsenal have opened talks with Atletico Madrid over a deal to sign Ghana international Thomas Partey, 26, according to the midfielder's father. (Mail)
Tottenham are interested in signing Real Betis' Brazilian full-back Emerson, 21, who is co-owned by Barcelona. (Mundo Deportivo - in Spanish)
Tottenham are after a new right-back and that may mean 27-year-old Ivory Coast international Serge Aurier's future at the club is in doubt. (Mail)
Tottenham are also set to rival Inter Milan in a bid to sign Barcelona's Brazilian midfielder Arthur, 23. Mundo Deportivo - in Spanish)
Chelsea are competing with Atletico Madrid for the signing of 16-year-old Netherlands U21 striker Mohamed Sankoh from Stoke. (Goal)
Premier League clubs are aiming to resume training on 9 May with a number of managers telling their players to prepare for a return to work. (Sun)
DR Congo winger Yannick Bolasie, 30, is to return to Everton after Sporting Lisbon cut his loan spell short in an attempt to cut costs. (A Bola - in Portuguese)
A group of League One and League Two sides have told the Football League that a salary cap will need to be introduced next season in order to avoid a number of clubs going out of business. (Mail)
Schalke boss David Wagner says the club cannot afford to sign Jonjoe Kenny, 23, from Everton on a permanent deal but would like to extend the defender's loan for another season. (Sky Sports)
Leeds will still sign Portuguese winger Helder Costa, 26, from Wolves on 1 July despite the financial uncertainty caused by the coronavirus crisis. (Football Insider)
West Ham boss David Moyes hopes the coronavirus pandemic might mean a "reset" of football, with transfer fees, wages and money paid to agents being looked at. (Telegraph)
OS
Academy Spotlight: Sean Adarkwa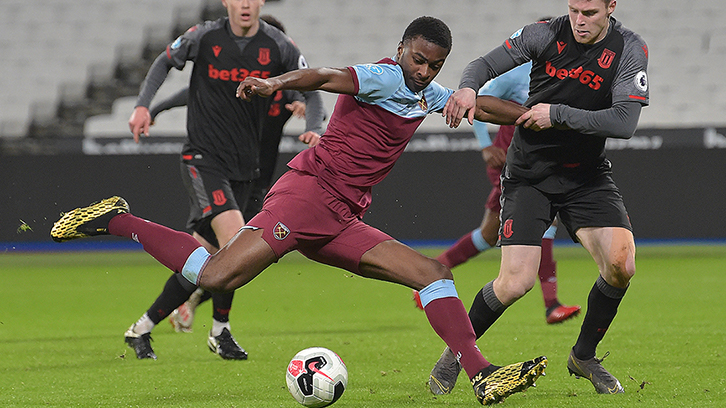 From early beginnings in Dagenham and the down-low on his team-mates, to his idols and love of Caribbean cuisine, meet 19-year-old striker Sean Adarkwa...
My Roots
The first football team I ever played for was a side in Dagenham, where I'm from, called Cobra FC. I joined them when I was eight, and it wasn't long after that I went on trial at West Ham. It's quite funny actually because I didn't get in, but I went on trial again at 11 after I was scouted playing for my district, and I've been at the club ever since!
My brother was my footballing role model. From a young age he was so self-disciplined. He taught me to play football as well. We played outside our house, and I used to nag him to play with me all the time.
I haven't always been a striker. I spent some time playing on the left wing at U14s. I didn't move back to striker until U16 level, but since then I've always played up top.
There are a lot of challenges when you grow up as a young footballer. Injuries are huge, and it's important not to get distracted. You find that, growing up, a lot of things are given to you, so it's easy to become complacent. I try and stay focused on my goals at all times, and by staying focused, I don't forget why I want to play football.
My Inspirations
Thierry Henry was my idol growing up. I never really used to watch him, but since he finished playing, I've gone back and watched all his clips on YouTube. My brother was a big fan of his as well – he was just a natural goalscorer who'd do anything to put the ball in the net.
An individual performance that stands out to me is probably Zinedine Zidane against Brazil in the 2006 World Cup. Zidane made some of the best players in the world look average that day. I remember watching it and being amazed at just how good he was.
My Teammates
My closest friend in the U23s squad is probably Manny Longelo. I've known him since we were both at primary school. He's from Barking, so sort of my area, and our families get along really well. We see a lot of each other off the pitch as well.
Jeremy Ngakia has the most natural talent in the squad. You can tell that he's still quite raw and spent a lot of time playing cage football because he's got all the tricks. Flip-flaps, ball-rolls – you name it, and Jeremy can do it.
We've got a couple of practical jokers in the squad to be fair. Joseph Anang is always making us all laugh. He's just himself and he does all sorts of random stuff that makes everyone laugh. He's great.
When we go away, it seems I'm always the last one on the coach, so I'd say I take the longest to get ready. After a long game I'm just tired, so I tend to keep everybody waiting – I lose track of time and all of a sudden, I'm the only one left in the changing room!
FIFA, Films & Food
I haven't really played FIFA in a while, but PSG are my go-to team. All of the attackers are fast and that's all that you need. They've all got skills as well, so I always use them.
I only got my PS4 towards the end of last year, so I haven't had a chance to play against all of the boys just yet. Louie Watson is always bragging about how good he is; I need to play him and see what he's all about. When I'm not playing FIFA I quite like Grand Theft Auto, but I don't play anything else really.
I've been watching the TV series Power, but my favourite is Top Boy. Game of Thrones is another one that I really enjoyed – you never knew what was going to happen. I hated the ending, but so did everyone!
My favourite film is called Get Rich or Die Tryin', about 50 Cent. It's all about his life and the struggles that he went through – it's a really interesting biopic.
J Hus is my favourite music artist at the moment. He's from Newham and that's kind of near me. To see someone come from Newham and turn into a global star is mad.
My go-to cheat meal is a lamb patty from the One Love Caribbean shop. I'll get that with a Ribena or something! I'm also a big fan of Nando's; I change my order quite a lot, but I like the Sunset Burger or the chicken thighs – they're the best.
C&H
Redbull story has no wings
The suggestion that Redbull has reignited interest in buying West Ham at a cut-down price is completely false.
The rumour originated from Twitter last night with an account with 300,000 followers claiming a source close to David Gold had told them Red Bull were back on the scene wanting a takeover at a bargain price.
Back in 2016, a tabloid story suggested Red Bull had bid £200m for the Hammers.
Joint Chairman David Sullivan took to the official website whufc.com to set the record straight by saying: "I would also like to take the opportunity to mention that the story that appeared in The Sun on Boxing Day morning regarding the possible sale of the Club to Red Bull is six months out of date. We did have a tentative approach to buy the Club for £650m from external investors in August this year, but I want to reiterate that we, the current owners, have NO DESIRE to sell the Club unless it is to somebody like the King of Saudi Arabia who can take it to a level we cannot ourselves hope to reach.
At the time Red Bull's global of football took the unusual step of denying any potential takeover of the Hammers.
Redbull's group's global head of football Oliver Mintzlaff flatly denied any suggestion saying Red Bull is not currently looking to add to its portfolio of football clubs.
"I should really know about this in my function because I'd be actively involved in it," Mintzlaff told German magazine Kicker
Star
West Ham could sign Sami Khedira for free so he can 'follow fiancee to London'
West Ham may have Chelsea to thank if they land Sami Khedira, who is said to have his eyes on a move to England after his partner signed for the Blues' women side
By Aaron Stokes
Sami Khedira may be West Ham -bound this summer - and it's all because of his partner Melanie Leupolz.
The German midfielder is being linked with a move away from Juventus after struggling with injuries this season.
Khedira was linked with Arsenal in the summer but a move to east London may now be on the cards instead.
Italian outlet CalcioMercato report West Ham could make a move for the 33-year-old, who has his heart set on a move to England due to the fact his partner has just signed for Chelsea women.
Melanie Leupolz joined the Blues from Bayern Munich back in March, signing a three-year deal.
However, the midfielder is still at the German club until the end of the season and has been self-isolating in Munich of late.
Khedira's contract at Juventus could be scrapped, allowing a free transfer.
Wolves have also been linked with a move for the World Cup winner in recent weeks.