BBC
Manchester United want to extend the loan deal of Nigeria striker Odion Ighalo, 30, from Shanghai Shenhua. (Standard)
Juventus are in talks with Jorginho's representatives about re-signing the 28-year-old Chelsea and Italy midfielder. (National)
Arsenal's hopes of signing France left-back Layvin Kurzawa from Paris St-Germain have been boosted by there being "zero" chance the 27-year-old will sign for Barcelona. (Le10 Sport - in French)
Meanwhile, Tottenham Hotspur are leading the race to sign PSG and Belgium defender Thomas Meunier, 28. (Le Parisien - in French)
Liverpool, Southampton and RB Leipzig are in a three-way chase for 23-year-old Werder Bremen winger Milot Rashica, with the Kosovan's contract set to expire in June. (Bild - in German)
Manchester United have offered forward Angel Gomes, 19, a £30,000-a-week deal in a bid to stop him leaving for free in the summer - and to reassure the England Under-20 international he features in their future plans despite the club's interest in Birmingham City's English midfielder Jude Bellingham, 16. (Sun)
The Old Trafford club are also keen on Sunderland's 16-year-old forward Joe Hugill, with Arsenal, Spurs, Wolverhampton Wanderers and Leeds United also interested in the English teenager. (Northern Echo)
However, United might wait another 12 months before signing their main transfer target - Borussia Dortmund's England winger Jadon Sancho, 20. (Mirror)
Chelsea's French midfielder Tiemoue Bakayoko, who is on loan at Monaco, wants to return to AC Milan. The 25-year-old spent the 2018-19 season on loan at the San Siro. (Calciomercato - in Italian)
Both Liverpool and Manchester City are interested in KV Mechelen's 17-year-old Belgian midfielder Aster Vranckx. (Mirror)
Manchester City are preparing a 32m euros (£28m) bid for Marseille's French defender Boubacar Kamara, 20. (Le10 Sport - in French)
Roma want Arsenal to pay a portion of Armenia midfielder Henrikh Mkhitaryan's £180,000 weekly salary if the Premier League side want to make the 31-year-old's loan move permanent. (ESPN)
The Gunners are favourites to sign RB Leipzig's Dayot Upamecano, 21, ahead of Tottenham and Manchester United, who are also tracking the France Under-21 defender. (Football.London)
Crystal Palace manager Roy Hodgson will be able to take charge of his side if and when the Premier League restarts, despite fears the 71-year-old would have to self-isolate because of coronavirus rules. (Mail)
After his loan spell at Besiktas was cancelled, Liverpool goalkeeper Loris Karius, 26, is set to return to the club to see out the remaining two years on his contract, according to the German's agent. (Fanatik via Sport Witness)
Jurgen Klopp turned down the chance to manage Mexico in 2015 in favour of taking charge at Liverpool. (Goal)
OS
Academy Spotlight: Dan Chesters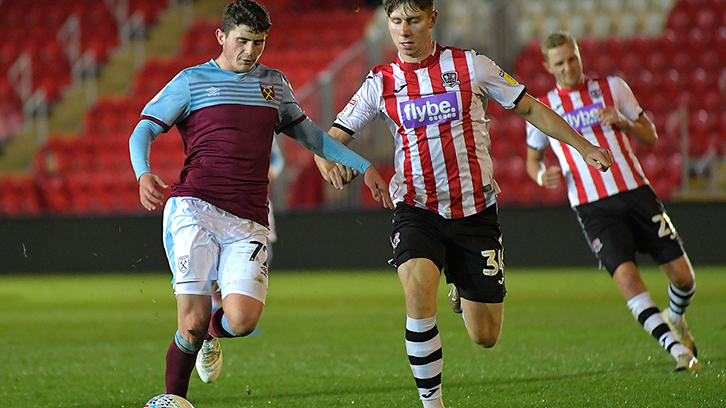 From Stevenage Blue Socks to talking U18s and U23s team-mates, meet 18-year-old midfielder, Dan Chesters...
My Roots
The first team that I remember playing for was Stevenage Blue Socks. It must have been about ten years ago, so I was probably playing for their Under-8s. The team was made up of mainly my friends from school and then my Dad was the coach. I moved to West Ham after being scouted initially by Arsenal and have been at the club ever since.
My Mum and Dad have had the biggest influence on my footballing career so far. They're the ones who have driven me everywhere, when I was younger taking me to training on Tuesdays and Thursdays - they're very supportive.
Growing up I've always played in midfield. Central midfield is my favourite place to play but for the last 12 months I've been playing out on the wing quite a bit. It's a different challenge for me and I've changed up my game to adapt to what the coaches want to see. I'm really enjoying it.
The biggest challenge that I've found growing up as a young footballer is the mental side. Going in every day and being resilient, trying your best, it takes it out of you. We're at the stage of the season now where there are opportunities in the U23s for some of us younger ones. This is the time for us to make the step-up and grab those chances.
My Inspirations
Right now, I'm really enjoying watching Kevin De Bruyne, he's top class. I think everything about his game is brilliant: he makes powerful runs from midfield and that's something I try and bring to my game as well, so he's my main inspiration at the minute.
My Teammates
My best friend in the U18s is Peter Stroud, we spent a lot of time together off the pitch and he makes me laugh.
The hardest working member of the squad is probably Sebastian Nebyla. He's always staying behind after training whilst everyone else is walking inside.
Lennon Peake is the most naturally gifted player amongst the U18s, I think. He's been really good from a very young age, very technical and very direct.
The jokers in the squad are definitely Sam Caiger and Jake Giddings. They're always making everyone laugh and playing tricks on one another - you don't get much peace and quiet with those two.
When we are on away trips we're always waiting for Josh Okotcha. He takes the longest to get ready by far - we're ready to head back on the coach and he's only just got out the shower!
FIFA, Films & Food
I tend not to play FIFA that much, believe it or not. If I had to pick a team it'd probably be PSG just because they have Neymar and Kylian Mbappé up top and that's just pure pace. There are a lot of boys who are better than me at FIFA to be fair, I rank pretty low. Louie Watson is pretty good; he's always putting his time into it.
Away from consoles we've been playing a new card game at the Academy House called Wolf. It gets us out of our rooms and round the kitchen table in the evenings. It's a bit like Wink Murder but with cards thrown in - it's good fun.
My favourite TV series is either Prison Break or Peaky Blinders. I really like Prison Break because some of the characters are so clever and Peaky Blinders is just really old school. I haven't got around to watching the new series of Peaky Blinders just yet, but I will make sure I do.
Fury with Brad Pitt and Shia Labeouf is my favourite film. It's so interesting to take a look back and see what the Second World War was like and also realise how mentally strong you had to be back then.
Music is an easy one; I really like Lil Baby because he's so chill. Listening to him always gets me hyped before a game. Travis Scott is another one and Meek Mill. I'd say they are the main three.
My go-to cheat meal is Domino's: I normally have Double Pepperoni and, for me, you can't really go wrong with that. I don't tend to go to restaurants very often but Nando's is obviously a favourite, you can't beat it!
C&H
Rebel PL clubs threatened with automatic relegation
A report in this morning's Daily Mail suggests some rebel Premier League clubs have been threatened with automatic relegation if they don't vote for Project Project with remaining fixtures played behind closed doors and at neutral grounds.
The rebel alliance is thought to include up to eight clubs consisting of the bottom six plus Southampton and Sheffield United who oppose the idea of playing at neutral grounds.
The report suggests the current bottom three clubs of Norwich City, Aston Villa and Bournemouth would face the best chance of surviving in the Premier League if football is re-started.
They have allegedly been told that the neutral ground plan is the only plan in town and that there is no prospect of removing the risk of relegation what so ever.
The FA has the power to block any plans by the Premier League to axe relegation from the top flight, according to reports.
Some clubs have insisted that they will only back Project Restart proposals if the threat of dropping into the Championship is dropped.
EFL chairman Rick Parry threatened legal action if Championship clubs are prevented from being promoted to the Premier League under the agreement between the two Leagues and the FA. Sky and BT Sport are also anticipated to oppose any proposals to scrap relegation from the Premier League this season making the option a non-starter.
THE FA has the power to BLOCK any Premier League plans to axe relegation from the top flight.
Some clubs which is said to include West Ham have warned that they will only back and vote for Project Restart proposals if the threat of dropping into the Championship is taken off the table completely.
EFL chairman Rick Parry has already threatened legal action if second-tier clubs are prevented from being promoted to the top-flight under the agreement between the two Leagues and the FA.
FA chairman Greg Clarke and the Wembley board have the right to demand promotion and relegation takes place even if all 20 Premier League clubs vote against it. The ability of the FA to interfere goes back to the original Premier League breakaway from the Football League.
The resulting Founder Members Agreement, signed on July 17, 1991, gave the "Special Shareholder" — the FA — specific powers.
Under the terms of the document, which remains in place today, rule variations can "be effective only with the consent in writing of the Special Shareholder and without such consent shall not be done or caused to be done".
According to Paragraph 7.2.4 (b) of the document, one of those provisions is "any amendment to, removal of or waiver of . . . the number of members and promotion to and relegation from the League".
The FA have never previously used the power and agreed with the reduction of League members from 22 to 20 in the 1995-96 season.
Football London
Jordan Hugill transfer, Winston Reid decision - what next for West Ham's loan stars
The pandemic means some deals for West Ham's loanees will be extended and others have come to a premature end
By Sam Inkersole
West Ham have five first team players out on loan at the moment although, like every footballer, they are not seeing any game time thanks to the Covid-19 pandemic.
That has thrown the short-term future of some of those players into doubt though none of those players currently out on loan have seen their seasons ended just yet.
We await news of what will happen with the Premier League and below in English football, supposedly we could know more early next week, as to when there could be a resumption to football for the 19/20 season.
So what does the future hold for those Hammers players out on loan when they come back to east London? Do they have a future at the club?
Jordan Hugill - QPR
The striker has done well and featured regularly for the Championship side, scoring 13 goals in all competitions this season. He was brought to West Ham by David Moyes in January 2018 and the manager has a decision to make over the striker.
Hugill could be a backup if the club gets rid of Albian Ajeti this summer but that's probably as good as it could get for Hugill.
Grady Diangana - West Bromwich Albion
The winger has had an excellent time of it away at the Hawthorns with former Hammers manager Slaven Bilic, so much so that Moyes considered recalling Diangana in January but an injury brought that to a halt.
Diangana will be coming back as Moyes is a big fan and sees the wideman as a big part of the Hammers future. West Brom would love to have him back again but that's highly unlikely.
Josh Cullen - Charlton
The midfielder signed a new contract at West Ham before heading off on another loan but has been namechecked a couple of times by Moyes as potentially sticking around.
It's hard to see where Cullen fits in though and at the age of 24, will be wanting regular game time that he might not get back in east London. A permanent move away looks likely.
Winston Reid - Sporting Kansas City
The defender was hoping to get some much-needed game time having barely played for two years but the pandemic has put pay to that.
The MLS won't be starting until June 8 at the earliest but Reid's loan wasn't due to start until the start of their campaign, whenever that may be, and he is likely to see that through.
Roberto - Alaves
The gaffe-prone Spaniard was shipped out to his homeland in January and has no future in east London under Moyes, who brought in Darren Randolph to be the number two in January to seal Roberto's fate.
The stopper is out of contract next summer so the club will try and get what they can for him when the next transfer window opens.