BBC
Tottenham are currently leading Manchester United in the race to sign Paris St-Germain's Belgium right-back Thomas Meunier, 28. (Sun on Sunday)
Manchester United are considering replacements for David de Gea, even though the 29-year-old Spain goalkeeper signed a new four-year contract in September. (Sunday Mirror)
Manchester United are preparing an offer for Inter Milan's Argentina forward Lautaro Martinez, but Barcelona and PSG are also interested in the 22-year-old. (Sunday Express)
The Red Devils, Chelsea and Tottenham are all interested in Lazio's Serbia midfielder Sergej Milinkovic-Savic, 25. (Caught Offside)
Real Madrid have told Arsenal to make a decision by 15 June as to whether they are open to selling Gabon striker Pierre-Emerick Aubameyang, 30, who has only a year remaining on his contract. (Sunday Mirror)
Atletico Madrid are prepared to sell England full-back Kieran Trippier for £20m with former club Burnley among those interested in acquiring the 29-year-old. (Sun on Sunday)
Liverpool are prepared to make a move for 17-year-old Brazilian forward Talles Magno, who plays for Rio de Janeiro side Vasco de Gama.(Daily Star Sunday)
Liverpool could also swoop in for Arsenal left-back Bukayo Saka, with the English 18-year-old's contract talks on hold. (Sun on Sunday)
The Reds' Spanish midfielder Pedro Chirivella, 22, will join Ligue 1 side Nantes when his contract at Anfield expires this summer. (Football 365)
Manchester United are hoping to secure Swansea defender Joe Rodon in a £20m move after former player and current Wales boss Ryan Giggs recommended the 22-year-old. (Sunday Mirror)
Juventus midfielder Adrien Rabiot, 25, is open to a move to Manchester United or Everton after the Frenchman failed to secure a regular first-team place in Turin. (Corriere di Torino via Mail on Sunday)
Tottenham should sign Bournemouth's Scottish winger Ryan Fraser, 26, on a free transfer this summer, says former Spurs striker Darren Bent. (Sunday Express)
Former Arsenal manager Arsene Wenger says Liverpool will always be recognised as Premier League champions, even if the season is cancelled. (Talksport)
Sun
THE CLEAN CLEAN GRASS Everything will be disinfected for Premier League restart including the GRASS.. just don't ask me how
Exclusive Karren Brady
MOST football people have a view on resuming action so let me make one thing 100 per cent clear.
The first and guiding Premier League principle is that it will only recommence when it is safe to do so.
Whatever you might be told, all 20 clubs are united in this objective.
And it's the first matter we must get right before we consider when the whistle will blow for kick-off on the final part of the most unfortunate season in football history.
Last week I spoke to all the West Ham players, mainly to assure them their health and well-being is our primary concern, top of the agenda in relation to any agreement to return to training or playing games. There will be no compromises.
They needed to know our board will not ask them to do anything we would not ask of our own children or family.
We pledged to adopt the health and safety protocols to the letter and go above and beyond them if necessary.
We will also make our decisions together in a transparent way.
And we will not allow players to be pitched against clubs, clubs to be pitched against clubs, clubs to be pitched against the league, the league to be pitched against the broadcasters.
The Premier League prides itself on unity.
Its extensive proposals to recommence training have been put forward for approval to the Government, Public Health England and the players.
All 20 clubs agree players, managers and medical staff are the key stakeholders in these discussions.
We have plans in hand just to get the squad fit, then to start collective training.
But there are no plans yet to restart the league as the playing protocols have not been agreed by the clubs, players or 20 club doctors.
I do know though many of the docs are furious about a leaked document based on their anonymous feedback.
That helped no one and was in danger of eroding trust among them at a time we need unity.
We need open and frank debate but privacy is vital in the build-up to the time decisions have to be announced. Out-of-context leaks cause problems.
Protocols deal with Government guidelines on:
Testing, surveillance (detection of new symptoms)
Environmental controls (dressing rooms, training grounds, transport, accommodation)
Protection of players, staff and the advisers behind the team (creating sterile environments, PPE equipment etc).
Currently, David Moyes' squad are in individual training stage and then, in time, will move to small group training, which may commence if the Government lift the lockdown.
We await to see what the PM will announce on Sunday.
If lockdown is lifted and Government and PHE give us permission to resume non-contact training, there are to be new rules for players and staff.
This includes not sharing cars, to limits through to the time a small group training session should last (75 minutes) and standing two metres away from each other.
In this phase, tackling is prohibited but passing and shooting is allowed.
We will also need to disinfect the corner flags, goalposts and even the grass — although how remains a mystery as that usually kills it.
But I guess, where there's a will there's a way!
There is no hiding, either, we are a long way from moving to non-contact training to actually playing competitive games.
And before we do, every club will have to produce a Covid-19 operational policy to be agreed by the Board and communicated with every player and staff member.
This document is not being prepared to duck liability or about asking players to waiver any rights.
It's simply about getting everyone to sign up to the protocols and agree to abide by them, to ensure the environment is safe to train.
Our club is moving quickly and our players have already undergone cardiac screening and blood tests. The bottom line is our players have three main points yet to be fully resolved. They are:
Will I be forced to training?
Will I be forced to play?
And what happens if someone tests positive once we are playing?
Players want it to be their choice whether they turn out or not, letting them decide should they have personal issues, such as living at home with a vulnerable adult or young children.
Fundamentally, I agree with this position. But in the event of a relegation battle some clubs might not be able to have the luxury of giving a choice to their players.
How would any club feel if an absence of one or two top men was an element in relegation?
It might not seem fair to play without them, but neither would it be fair to force players to play if they have genuine concerns about doing so. What is reasonable to one club may end up unfair to another.
Neutral grounds for the rest of the season falls bang into that category.
The games will look and feel very different and there's no getting away from the fact the final nine rounds of matches will be played in unusual circumstances.
Clubs on the brink are understandably concerned about giving up home advantage, let alone playing without their vital 12th man — their supporters. The will to play is the essence of every club and player but they want a level playing field.
Then what happens if we restart the league and have to stop again?
There could be a second lockdown or even a club so crippled by coronavirus it can barely turn out a first XI let alone field the projected five subs.
Or imagine a player on the way to a game who appears to have an unquenchable cough but can't be tested on the day of the match? Does he play or not? Would it be 'cough stops play'?
The top teams in the PL want to sort out the title, the European places, while the lower clubs are facing real uncertainty.
If they go down after agreeing to all the changes put forward, what are they getting relegated into?
EFL chairman Rick Parry said this week that some clubs could go bankrupt. He is also proposing salary caps in the League — how do relegated clubs comply with that?
Before we indulge in hell or high water, the PL must agree, first on safety measures then on being as fair as possible.
We will all need to make compromises and I think we're all willing to make them.
When the clubs reach this state, then we can crack on with playing again and give the country a real lift.
C&H
Nightmare goes on with two positive German cases
The Premier League and its chairmen received yet another warning last night that restarting the Premier League programme will become a nightmare of epic proportions.
Encouraged by the expected return of the Bundesliga, it now turns out that two players from Dynamo Dresden were have tested positive and their entire first-team squad now under lockdown.
What with the controversial neutral grounds issue disfiguring the PL's plans and the health conditions incredibly uncertain this should surely act as a warning against continuing down this reckless path.
The game in this country will no doubt also now see the players wracked with further doubts about whether they want to make a return to behind closed doors football with the figures in this country still nowhere near zero.
The German Leagues are aiming to become the first major European league to resume following widespread suspensions due to the global health crisis.
But Dresden – who are currently bottom of the second division – will now almost certainly have to postpone their first game back after two positive tests.
And it demonstrates that sadly the same problem can easily hit any other club here or abroad as hopes continue to grow and then dampen considerably against a restart being possible.
Dresden explained in a statement published on the club's official website."On Friday, May 8, 2020, the third test series for 'Covid-19' of all second division squads, including the coaching and supervisory staff of SG Dynamo Dresden, took place as scheduled. After evaluating all laboratory samples, it was clear on Saturday that there were two new corona cases at SGD,"
"The affected players have been medically normal in the past few days and are currently still symptom-free."
Meanwhile league chairman have to decide via a vote whether to give Operation Restart the go ahead at a meeting tomorrow but the news from Germany will cause even more worried brows .
Football London
West Ham in line for huge boost
West Ham in line to receive huge sum
A new study has revealed that West Ham stand to receive more than £115million from TV revenue as part of the broadcast deal this season.
OLBG's study Fans of the EPL has looked at what each team could be set to gain this season as part of the TV revenue deal, with the current bottom three Premier League clubs all standing to gain £100,000,000 from broadcast partners even if they are relegated this season.
And West Ham are set to fare even better, with the Hammers having been shown live on television 15 times this season.
With the 2019/20 season featuring 200 scheduled live matches on TV for the first time and £432,305,368 to be shared out in facility fees (payment based on the amount of times you appear live on TV), each club would receive a massive £1,080,763 per live match - with £2,161,526 to be split between both sides.
West Ham's television appearances this season equate to £16,211,445, with the Hammers in line to receive £115,005,900 in total based on the broadcast deal and merit payments for finishing positions, as things stand.
Guardian
'There was a lot of swearing': the night West Ham played behind closed doors
Two players and a photographer remember what it was like to face Castilla at an empty Upton Park in 1980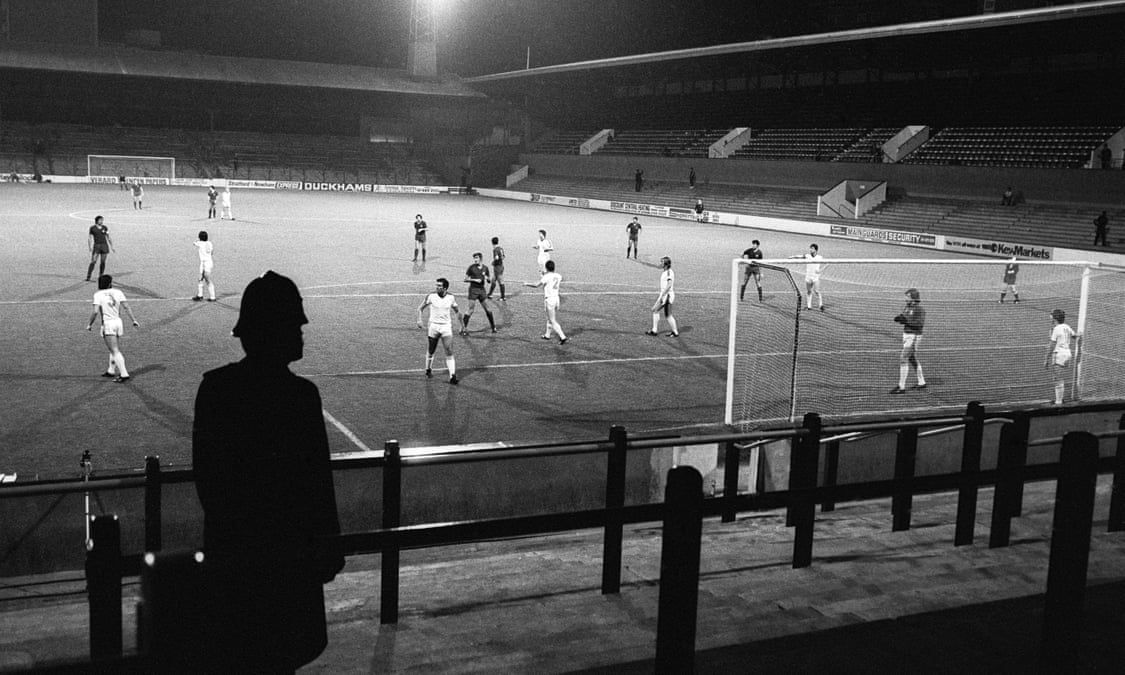 West Ham play Castilla behind closed doors in the Cup Winners' Cup in October 1980 after crowd trouble at the first leg in Madrid. Photograph: David Ashdown/Getty Images
Jacob Steinberg
At half-time West Ham's former chairman Len Cearns was sent on a futile mission by his fellow directors. They wanted him to go down to the home dressing room to ask John Lyall if there was any way his team could possibly remember that the foul language being used in the heat of battle was floating away from the pitch, rattling around the empty terraces and causing some discomfort for the people sitting in the posh seats.
"There was a lot of swearing going on in the game," Alvin Martin says as he recalls West Ham hosting a European tie behind closed doors in the autumn of 1980. "You don't realise it. You're communicating in a factory way."
It is nearly 40 years since Upton Park's ghost game and Martin, who played in central defence as West Ham reached the second round of the Cup Winners' Cup by winning the second leg of their tie against Castilla, chuckles when he is asked if his teammates paid any attention to the chairman's request. "No. In all the years I played with Trevor Brooking he never used a foul word. That was exceptional. But that's the way we communicated. You can't just switch that off."
Broadcasters might want to keep that in mind as English football grapples with the damage caused by the coronavirus pandemic. It is almost inevitable games will be played behind closed doors if the season resumes and it will be challenging for players to adjust. Martin's teammate David Cross describes it as an eerie experience and remembers finding it hard to summon the usual intensity against Castilla, Real Madrid's B team.
"You were conscious of your voice echoing around the stadium," Cross says. "Voices would bounce off the stands and back to you. You didn't get that bounce back off the crowd. You had to shout very loud on a Saturday afternoon to make sure one of your teammates 15 yards away could hear you. We were used to talking very loudly on the pitch.
"In training sometimes we'd play 11 v 11. Sometimes in our own stadium. We were used to playing football every day with no fans there. It's just on matchday your fans gave you that atmosphere. I think it took us 15 to 20 minutes to realise we were in a proper match."
In West Ham's case it was a one-off, a punishment by Uefa after crowd trouble marred the first leg at the Bernabéu. For Castilla, who had qualified after losing the Copa del Rey final against Real, the Spanish champions, playing at such a famous ground was meant to be the stuff of dreams. In the stands it was anything but. There were ugly scenes in the away end and there was tragedy after the game when a West Ham fan died after being hit by a bus in the chaos outside the ground.
Uefa responded by fining West Ham £7,750 and ordering them to play their next two European home games at least 187 miles away from Upton Park. Sunderland's Roker Park was one possibility for the second leg, while Martin remembers talk of the second leg taking place in Middlesbrough. Cross says the players were told they may have to play in France.
After an appeal by West Ham, Uefa decided to stage the game at Upton Park with no supporters present. There was also no live coverage on television and the official attendance was 262. "We would have relied on the fans at Upton Park, especially on a midweek game under the floodlights," Martin says. Cross was more upbeat. "Playing at Upton Park was still an advantage for us, even if we didn't have our fans, which is usually worth a goal," the former striker says. "We were on familiar territory."
Steve Bacon, West Ham's former club photographer, was one of the 262. "There were lots of fans milling outside," he says. "I was in the stadium and because there was no crowd we were able to wander round as we wanted. I went up the back of the North Bank and did the pictures from there. You could hear the players shouting to each other.
"Eddie Baily, one of John Lyall's backroom staff, was a bit foul-mouthed. I can remember him effing and blinding above anything else in the ground. I could also hear Bryan Butler doing the commentary on BBC radio."
West Ham had lost the first leg 3-1, but while they were in Division Two, they were dangerous on their day. They had beaten Arsenal in the FA Cup final that year and they saw off Castilla. Geoff Pike pulled an early goal back and although a stunning goal from Bernal, Castilla's captain, took the game into extra time, a Cross hat-trick sealed a 5-1 win.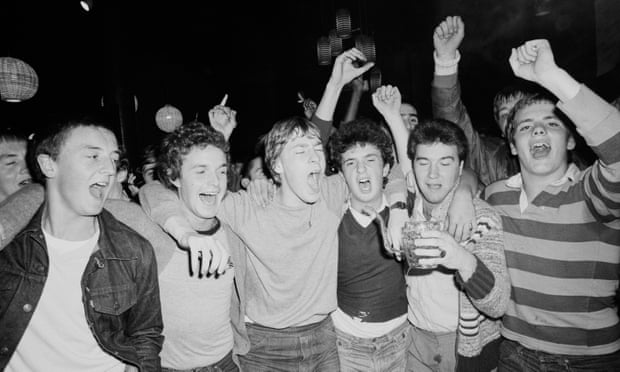 West Ham fans celebrate the victory against Castilla outside the stadium. Photograph: Evening Standard/Getty Images
West Ham, who would go out in the last eight to the eventual winners, Dinamo Tbilisi, had dealt with a weird experience. The unknown in the present is how players will cope with a long stretch without their fans.
"I wonder if it will slow the pace down," Martin says. "The atmosphere generates adrenaline in a player and everything becomes quicker. Players go that little bit harder into a tackle or run that little bit further and are absolutely aware that every little challenge in the game can determine the result.
"Will we see referees having an easier time? The language between the players and the referee will be much more noticeable. I think you'll see an improvement in behaviour towards officials.
"For us it was a novelty. But playing behind closed doors will be more difficult over time. These players have been used to playing in front of 60,000 people. It will be something totally unknown to them. But the main thing is everybody will be geared up to getting results. The competitive edge will take over."