BBC
Newcastle are ready to spend £53m to offer Real Madrid forward Gareth Bale, 30, a route back to the Premier League this summer. (Daily Mail)
Tottenham will not allow £55m record signing Tanguy Ndombele, 23, to leave this summer. The French midfielder has been linked with Barcelona and Liverpool. (Independent)
Dejan Lovren appears to be edging closer to an exit from Liverpool, with Roma set to make their move for the 30-year-old Croatian defender. (Gazzetta dello Sport, via Liverpool Echo)
Liverpool have joined the race along with several European giants for Red Bull Salzburg's 19-year-old Hungarian midfielder Dominik Szoboszlai. (Tuttosport, via Daily Mail)
Manchester United want to secure summer deals for a trio of young English players this summer - Borussia Dortmund forward Jadon Sancho, 20, Aston Villa midfielder Jack Grealish, 24, and Birmingham's 16-year-old midfielder Jude Bellingham. (Daily Star)
However, striker Odion Ighalo, 30, may have played his last game for Manchester United after talks to extend the Nigerian's loan deal from Shanghai Shenhua in China reached an impasse. (Standard)
Juventus have become the first Italian club to introduce their own salary cap, effectively ruling themselves out of the race for Manchester United's 27-year-old France midfielder Paul Pogba. (Daily Mail)
Lionel Messi, 32, and some of his fellow players in Spain face a 30% pay cut next season as Barcelona and Real Madrid consider extending the wage drop caused by coronavirus. (Sun)
Chelsea are confident of signing Manchester United's 19-year-old English midfielder Angel Gomes. (Mirror)
West Brom will rival Tottenham for the signing of £18m Fenerbahce and Kosovo forward Vedat Muriqi, 26, if they are promoted to the Premier League. (Aksam, via Birmingham Mail)
Crystal Palace want Burnley boss Sean Dyche as their next manager. (Mirror)
Evening Standard
Premier League 'to ban tackling' in training sessions as part of new social distancing rules
Tackling could be banned as part of strict new guidelines as Premier League clubs prepare to return to group training following the coronavirus suspension.
While the Premier League continues discussions over 'Project Restart' - to decide when top-flight football will resume - preparations are being made for group training sessions.
According to BBC Sport, official protocols were sent to players and managers on Tuesday which reveal that social distancing must be "strictly observed" along with new guidelines to adhere to.
Teams such as Arsenal, Tottenham and West Ham have already held short training sessions with players keeping to social distancing rules by participating in individual sessions.
But there will be more stringent procedures in place, with measures including disinfecting playing surfaces after each session and ensuring equipment such as cones, goalposts and balls are thoroughly cleaned.
It is also reported that Premier League bosses are hopeful that the training sessions, limited to 75 minutes, will take place from Monday, May 18.
Under the new guidelines, players will be tested for Covid-19 bi-weekly and required to fill out a daily questionnaire before training.
With relation to "control measures", it reportedly includes "meticulous personal hygiene and use of personal protective equipment (PPE), no congregation in communal areas, including but not limited to medical rooms and gym areas".
While many players usually carpool to their club's respective training ground, this will no longer be allowed and team vehicles "should not be used", the report adds.
The Premier League are hoping to end the league's suspension with its first fixture by June 12 and these measures could be crucial in helping League bosses convince club executives that it is safe to return.
C&H
Premier League performs U-Turn on neutral grounds
Premier League clubs are expected to be allowed to use their own grounds to complete the season after positive talks between senior football figures, government officials and the police. on Tuesday reports the Times.
Safety remains the key issue, but a source told the broadsheet said that if that could be guaranteed "there is a will to make it happen".
However, convincing players that it is safe to return to competitive action during the current health crisis remains a significant obstacle to resuming the season, which has been suspended since March 13.
There is a number of crunch dates listed below:
Monday, 11 May, Premier League meeting
Tuesday, 12 May: Professional Footballers' Association/League Managers' Association consult members on medical protocols
Wednesday,13 May: Meetings between Premier League and PFA/LMA about medical protocols
Thursday, 14 May: Meeting between Culture Secretary and football authorities
Monday, 18 May: Next Premier League meeting
Monday, 18 May: Premier League players may return to initial group training under socially distancing protocols
Friday, 22 May, Potential Premier League Meeting
Monday 25 May: Uefa deadline for leagues to have finalised plan for restarting season
Monday, 1 June: Government date for the possible return of elite sport behind closed doors in England
Friday 12 June: Premier League aiming to return with the first fixture
Friday 19 June: Latest date Premier could return to finish 92 remaining fixtures before 2nd August,
Wednesday 24 June: Premier League deadline to vote to extend player contracts
Tuesday 30 June: Premier League to extend player contracts.
Sunday 2 August, UEFA preferred deadline for European domestic leagues to finish and for Europa and Champions League remaining games to resume.
Monday 3 August, Potential date for the summer transfer window to open.
Saturday 8 August: Legacy scheduled start date of 2020/2021 Premier League season which is subject to change.
West Ham captain Mark Noble representing West Ham players this morning will be told at a Premier League Project Restart briefing on Wednesday to turn their faces away after they have been tackled, according to reports.
Top-flight captains will hold a video conference call with league bosses, the PFA and Government officials at 10 am on Wednesday as part of crucial Project Restart talks centred on player welfare.
And according to The Telegraph, the reported measure regarding tackling from the Premier League will come as part of significant 'cultural changes' that have to be accepted if football is to be played again before the end of the year.
Research carried out by experts at Aarhus University and the University of Southern Denmark showed that top-level football players are within an infectious distance of each other for an average of only 88 seconds during a match.
Football players through their captains will be able to voice their concerns over safety at this morning's meeting.
OS
Academy Spotlight: Sam Caiger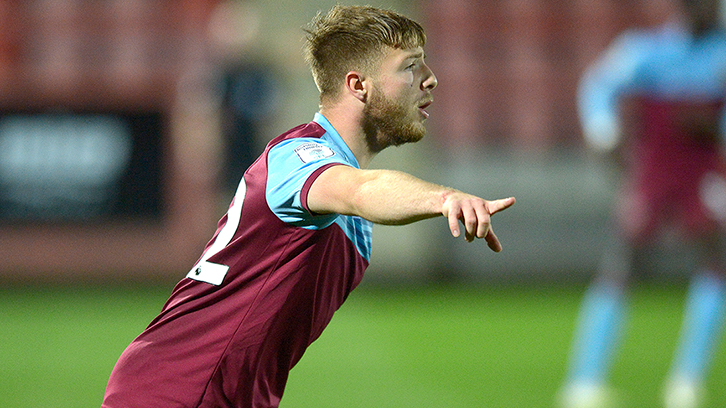 From drawing inspiration from Philipp Lahm to his talented team-mates in the U18s and U23s, meet 18-year-old defender, Sam Caiger...
My Roots
The first football team that I played for was Welwyn Garden City. I joined them when I was in the Under-6s because my Dad used to coach the team. I didn't move to West Ham until late on in Under-11s. We went to a Premier League tournament and then West Ham signed me after that.
The biggest footballing influence on me has to be my Dad. He's tough on me but in a really positive way. Ever since I was young, he's supported me and has followed me playing football for a long time now. There's so much commitment that goes into playing for an Academy; just the little things like dropping me off and picking me up, he's always been there.
I used to be more of a midfielder and my Dad still thinks I am a midfielder to be fair! When I joined West Ham, we had a trial game against Charlton. They asked me what position I wanted to play and for some reason I said full-back and ever since then that's where I've played!
The biggest challenge for me in terms of breaking through as a young footballer is injuries. When you're young you sometimes don't know how to cope with injuries. As you get older you start to realise you've got to be mentally stronger through that type of stuff.
My Inspirations
As I'm a full-back now, I'd probably say that my idol is Phillipp Lahm. Obviously, I'm not the tallest and nor is he. He's probably one of the greatest defenders that we've ever seen, he's a leader, and he's captained Bayern Munich and Germany for I don't know how many years.
I watch clips of his 1v1 defending and even though they say that players who go to ground aren't the best, he wins every slide tackle and that can only be a good thing.
One individual performance that sticks out to me would be Jack Wilshere when Arsenal played Barcelona back in 2011. He was only young, and he ran the game in the middle. It's rare to see a performance like that from a player who's so young.
My Teammates
My closest friend in the squad is probably Jake Giddings; me and him have similar banter. We've always been really close, and we have a bit of a reputation in the U18s for being jokers. He joined West Ham a bit before me and since we've both become full-time scholars, we've just got closer and closer.
The hardest worker in the squad? That's a tough one! We all work really hard so it's difficult to say somebody works harder than somebody else, I'll just say we all do.
Dan Chesters probably has the most natural talent in the squad. He's great with the ball and you just wait for him to do something magic as he's got a lot of ability.
The practical jokers in the team are probably me and Jake. We just get on everyone's nerves in a good way I think. We've played a few pranks, but I'm not giving anything away.
FIFA, Films & Food
My go-to team on FIFA would have to be Barcelona. The front three are lethal, cutting in with Leo Messi on the right, and his finesse shot just works every time.
I'd say I'm definitely one of the best players at the Academy. Serine Sanneh is pretty good; he's playing it 24/7 so I'd say he's the best. I'm in the top three though!
I've been playing Call of Duty recently; I probably need to settle down because I've been playing it quite a lot. This might sound a bit silly, but I'm really enjoying Lego Star Wars too! I've been playing it on my phone and I've almost completed it, I think I've got one more level to go.
My favourite TV series is Power, that's an easy one for me - it's the best thing that I've ever watched. I've never enjoyed a programme as much as Power, nothing beats it.
I haven't really got a favourite film. I quite like war films; The Trench is a good one with Daniel Craig, I'd recommend it.
My favourite music artist is another easy one. I love Oasis and I love Liam Gallagher, I'm a massive fan. If I had to pick just one song, then Slide Away is probably my favourite.
My go-to cheat meal? Well, I can't cook so it'll have to be a takeaway. I like pizza, so I'll say Domino's, but if I'm going out to eat then it's Nando's.