BBC
Manchester United failed in an £89m bid for Barcelona's Ansu Fati, 17, after giving up on Borussia Dortmund's England forward Jadon Sancho, 20. (Sport)
Ajax have confirmed that Manchester United are interested in signing their 23-year-old Dutch midfielder Donny van de Beek. (Sun)
Manchester United are close to the valuation necessary to sign Fiorentina and Italy forward Federico Chiesa, 22. (Star)
Chelsea are set to pursue Bayer Leverkusen's Germany forward Kai Havertz, 20. (Mail)
Chelsea are challenging Tottenham and Borussia Dortmund to sign Flamengo's Brazilian midfielder Gerson, 23. (Fox Sports, via Express)
Newcastle United could be bought by an American entrepreneur if a Saudi Arabian-led consortium does not complete their proposed takeover of the club. (Telegraph)
West Ham are waiting to see if out-of-contract English right-back Jeremy Ngakia, 19, becomes the first Premier League player to refuse a short-term extension. (Talksport)
Arsenal midfielder Henrikh Mkhitaryan wants to make a permanent move to Roma after the Armenian, 31, joined the Serie A side on a season-long loan last summer. (Goal)
Manchester United are set to agree new contracts with left-back Brandon Williams, 19, and goalkeeper Dean Henderson, 23, who has spent the last two seasons on loan with Sheffield United. (ESPN)
Everton could move for Paris St-Germain captain Thiago Silva after it emerged the French club will not offer the 35-year-old Brazilian defender a new deal. (L'Equipe - in French)
Spanish midfielder Dani Ceballos, 23, is open to a permanent move away from Real Madrid after spending the season on loan with Arsenal. (Independent)
Arsenal are still favourites to sign Spanish midfielder Marc Roca, 23, from Espanyol. (Express)
The Champions League and Europa League knockout stages are set to conclude in Lisbon over the space of two weeks in August. (Independent)
Juventus and Argentina forward Paulo Dybala, 26, says it would be "very nice" to play for Barcelona. (Goal)
Liverpool want playmaker Adam Lallana, 32, to extend his contract until the end of the season. (Independent)
OS
Four young Hammers sign contract extensions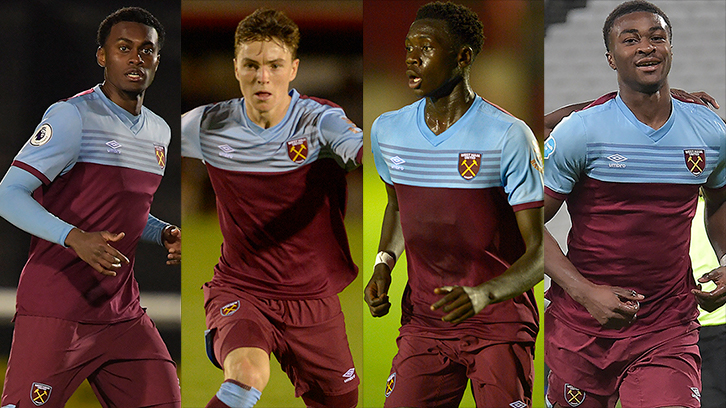 Defender Olatunji Akinola, midfielder Alfie Lewis, wide player Emmanuel Longelo and striker Sean Adarkwa have signed one-year contract extensions with the Club.
The young professionals have all excelled in Claret and Blue this season for Dmitri Halajko's Under-23s side, who finished top of, and unbeaten in, Premier League 2 Division 2.
Having been with the Hammers from the age of eight, promising centre-back Akinola returned from a year-long injury lay-off in January to make an immediate impact for Halajko's side, sporting the captain's armband for the U23s during the second half of the season.
After also recovering from long-term injury, striker Adarkwa set about making up for lost time in the second half of the campaign, netting three goals in three competitive appearances.
Central midfielder Lewis, meanwhile, has been a consistent performer at the heart of the Irons' midfield all season, recording six goals and an assist in 22 appearances.
Having successfully transitioned from his usual forward role to a consistent left-back this season, Longelo's powerful runs, meanwhile, saw him record an additional two assists for the U23s.
All four players are now committed to West Ham United until the conclusion of June 2021.
On the new deals, U23s Lead Coach Halajko said: "This news is fully deserved for these players. Each one played a massive part in what was a successful season for the U23s, and they've also all had individual seasons they can be proud of.
"They've worked hard all campaign, developing and improving as the season's gone on. Hopefully they can continue that next year.
"Their ultimate goal will be to, one day, get into West Ham's first team, which is a humongous task, so they'll have to do everything they can in the years ahead to bridge that gap."
Academy Manager Ricky Martin said: "These individual players have had various members of the Academy staff involved in their coaching, so this is also a great opportunity to thank them for the part they've played to date.
"Their development journey will continue in their ultimate pursuit to gain a first-team place, and we will work, develop and give every individual player at the Academy all the focus and attention that they require to pursue and achieve their goals."
Evening Standard
Jeremy Ngakia's West Ham exit 'a kick in the teeth' as David Moyes tells youngster: 'You've made a mistake'
EXCLUSIVE INTERVIEW
KEN DYER
West Ham manager David Moyes says he is "surprised and disappointed" at teenage defender Jeremy Ngakia's decision to leave the club when his contract expires at the end of this month.
Deptford-born Ngakia, 19, who was handed his Premier League debut by Moyes in January and who subsequently made three more senior appearances, has turned down a new offer, reputed to be worth around £5,000 a week, and will not sign a temporary extension to the end of this season.
"We are really surprised and disappointed that Jeremy is not going to stay at West Ham," admitted Moyes. "We like him a lot, we've given him his debut and I'm a manager who has done that many times in my career, including Wayne Rooney, Ross Barkley, Jordan Pickford and others.
"Jeremy is another one and I feel he is making a mistake choosing not to stay with us. We've trusted him in big games and everyone likes him at the club.
"I also feel it's a kick in the teeth for the academy, because they have developed a player for the first team and he's not going to stay. We're also really disappointed with his decision not to stay beyond June 30.
"I don't agree with that and I also think it's something the Premier League should not allow to happen, because it means the season is not starting and finishing in the same way.
"There's nothing we can do about that, though, and we are still working with him. We like him, we want him to feel he's been given the best service we can give and maybe there's still a little hope that we can change his mind."
Clubs have until June 23 to agree short-term deals for players whose contracts are due to expire at the end of the month and Moyes added: "We haven't given up all hope of Jeremy realising he has got it wrong, but I have to say he has told me directly that it is not his choice to stay."