BBC
Borussia Dortmund squad manager Sebastian Kehl has dismissed speculation linking Jadon Sancho with a move to Liverpool this summer. Manchester United are also interested in the 20-year-old England forward. (Sunday Mirror)
England boss Gareth Southgate has told Sancho he does not need to leave Dortmund to continue his development. (Sunday Telegraph - subscription required)
Tottenham Hotspur have been offered the chance to sign Wales and former Arsenal midfielder Aaron Ramsey, 29, from Juventus. (Sun on Sunday)
RB Leipzig boss Julian Nagelsmann says Timo Werner has no future at the club as the 24-year-old Germany forward waits to complete his move to Chelsea. (Sunday Mirror)
Kepa Arrizabalaga has nine games to prove his worth at Chelsea, with a number of high-profile replacements being considered for the 25-year-old Spain goalkeeper. (Sunday Express)
Arsenal look set to win the race for French centre-back Dayot Upamecano, with Manchester United and Bayern Munich also interested in the 21-year-old RB Leipzig player. (Tuttosport - in Italian)
Jorginho and Juventus boss Maurizio Sarri have not spoken since the latter left Chelsea, but the 28-year-old Italy midfielder has been continually linked with the Serie A side. (Mail on Sunday)
Manchester United are prepared to sell Brazil midfielder Andreas Pereira, 24, to fund a move for Ajax and Netherlands midfielder Donny van de Beek, 23. (Daily Star Sunday)
United have been tracking Spain Under-21 winger Ansu Fati but now accept the 17-year-old will stay at Barcelona. (ESPN)
Celtic striker Odsonne Edouard has dismissed rumours he will move to Arsenal, with the 22-year-old Frenchman saying he would love to be part of a 10th successive title win with the Scottish Premiership club. (Mail on Sunday)
Juventus are confident of renewing Argentina forward Paulo Dybala's contract, with the 26-year-old requesting an £11m-per-year deal. (Goal)
Mainz manager Rouven Schroder says the club are in talks to keep Liverpool forward Taiwo Awoniyi. The 22-year-old Nigerian has been on loan at the Bundesliga side since last summer. (Goal)
AC Milan are expected to announce the signing of 20-year-old French defender Pierre Kalulu from Lyon soon. (La Gazzetta dello Sport - in Italian)
Chile midfielder Arturo Vidal, 33, has suggested he would be interested in a move to Inter Milan, saying he does not feel important at Barcelona. (Goal)
Uruguay striker Edinson Cavani, 33, will leave Paris St-Germain along with Brazil defender Thiago Silva, 35, at the end of August, the club's sporting director has confirmed. (Le Journal du Dimanche - in French and subscription only)
Observer
West Ham Women thriving under Jack Sullivan's youthful leadership
The 20-year-old managing director has seen progress on the field and the club's work in the community during lockdown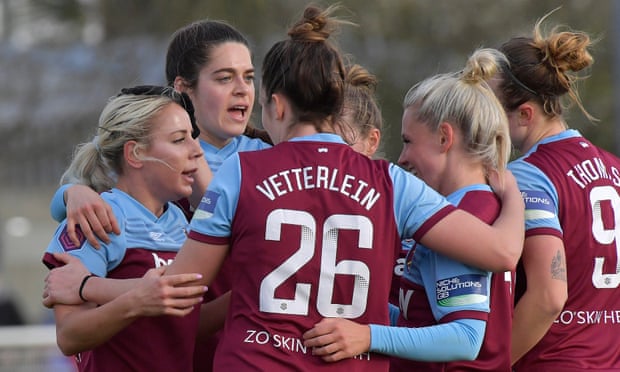 West Ham players during February's win over Liverpool. Photograph: Arfa Griffiths/West Ham United FC via Getty Images
Suzanne Wrack
Jack Sullivan grins. After a long, impassioned monologue about the future of women's football, the 20-year-old managing director of West Ham Women is facing a curveball of a question: what's the bigger goal, sustainability or a trophy? "Ideally, I'd like both," he says with a laugh. "But I won't be greedy. I'm hoping over the next year, or next two years, they can both be achieved.
"I wouldn't want to judge them against each other. But I do think it's incredibly important that we grow sustainably. The last thing we want to see is the game growing too quickly and then not being able to to keep up with itself."
How far are West Ham Women from achieving that goal? "We're not super close, but we're not super far," he teases. "It's great to have the support from your men's team. If men's teams want to invest? By all means, brilliant, 100%, please do it. If we can be self-sustainable and get topped up by the men's team a little bit then we can look and really start to use the extra money wisely.
"More money coming into the game has a snowball effect. If there's more money being drawn in, we can spend more money on advertising, on this, on that."
When Sullivan took charge in 2017 and oversaw the club's successful bid to swap the third tier for the Women's Super League, he had to face doubts about the teenage son of West Ham co-owner David running a women's football team.
On first meeting Sullivan, in the buildup to the team's first Women's FA Cup final, which they would lose 3-0 to Manchester City, it was hard not to be charmed by the youthful enthusiasm of the then 19-year-old. Before that interview, a member of staff at the FA said the young boss was a "breath of fresh air". "I was very bullish," Sullivan says now, with a grin. "I knew the way I wanted to do things and it wasn't always the right decision."
Now, he is a little more polished, much more the pragmatic partner in building the women's game. So when asked whether he looks at the return of the Bundesliga and the NWSL Challenge Cup in the US and has any regrets about the truncated WSL season he is quick to praise. "Firstly, I think hats off to everyone at the FA because they were really open with us. We had weekly dialogue and they have listened to the clubs. We all, ideally, wanted to finish, to play the games, but I think in reality, it's probably the best and the most pragmatic decision to finish the season as we did.
"Germany and America are in very different stages of the pandemic, Germany especially, they're a lot further ahead than we are. So I think you have to look at it differently."
He has one misgiving. "I feel heartbroken for Liverpool," he says of the club who were denied a chance to save themselves from relegation. "It was the correct decision to finish the league but, for me, and I've said this to the FA as well, I'm not sure it's the correct decision that Liverpool went down. A lot can happen in football, we're in a climate where a lot can change in a short period of time. So I just think for them to go down with such a small number of games played is tough."
Now, his attentions are on 2020-21. "Next season is a huge, huge year for us, the TV rights deal will be up at the end of it and it's a huge opportunity for us to sell the league on and off the pitch."
The enforced break has also given West Ham time to focus on the bigger picture. "It doesn't always feel like it is, but it is supposed to be a hobby," reflects Sullivan. A hobby that wields power they have tried to use for good during lockdown. As part of the Hammers at Home campaign, club chefs have posted recipes and made phone calls to fans over 70. With their partners they have supported the local domestic abuse charities Refuge and Hestia. Partnering with two NHS trusts, they have run giveaways and fundraisers.
"Aqua British, our water sponsor, are donating a percentage of every bottle sold to the West Ham Foundation," adds Sullivan. "Their bottles are 100% biodegradable and for every bottle sold they plant a tree as well. It's not just financial sustainability that matters now. Across West Ham and at London Stadium zero waste goes to landfill."
On the pitch, West Ham perhaps overachieved in their first year in the top flight by coming seventh in the league and reaching the Cup final. This time, they finished eighth. It has been a bit of a stand-still year. "We're a bit disappointed, we always want to do better, but then again you sit there and remember that this was only our second season.
"It's also not only us investing more into the women's game. Everyone's investing all the time. So we're in a constant race, which ultimately is what you want to see."
C&H
West Ham practise game against Palace was intense
Yesterday's final practice game was intense and played at full-pace one London Stadium onlooker has told Claret and Hugh this morning adding that Crystal Palace who lost 2-1 were well up for it.
The match was split into three thirty-minute segments with many substitutions with only Declan Rice playing the full ninety minutes.
Sebastien Haller who netted his second goal in four days was said to have scored a good header and he looked sharp and full of confidence. Jeremy Ngakia came on for the final thirty-minute segment and we are told scored a wonder goal as Moyes looked to give as many players as possible minutes on the pitch before West Ham faces Wolves at the London Stadium in six days time.
Claret and Hugh have been told not to read too much into Ngakia's game time and that nothing has changed with regards to his contract position and as it stands he is due to leave the club at the end of the month.
SportsLens
Newcastle United and West Ham eye move for Malang Sarr
According to reports from FC InterNews, two Premier League clubs – Newcastle United and West Ham – are looking to sign Malang Sarr in the summer transfer window.
The central defender is out of contract at OGC Nice this summer, and a host of European clubs are vying for his signature.
The report claims that the likes of Eintracht Frankfurt and Lyon are also showing keen interest in the 21-year-old defender.
Italian giants Inter Milan and Lazio are also interested in signing him as both the clubs are looking for a left-footed centre-back.
Sarr is a highly-rated young defender who can play at centre-back or at left-back. He has spent the entirety of his career at Nice, but it seems he could be on his way out of the club in the next few months.
He has been ever-present in Ligue 1 for some time now and would be a superb signing for the Magpies or the Hammers on a free transfer.
However, Newcastle first need to sort out the takeover process and then should look to appoint a quality manager if they don't want to continue with Steve Bruce.
For West Ham, any transfer plans hinge upon where they end up at the end of the season. The Hammers are fighting for survival, and they would struggle to attract big names if they drop down to the Championship.
Mirror
West Ham are chasing Serbian teenage midfielder Milos Pantovic (17)
Benfica & Olympiakos also in for him.