BBC
Arsenal manager Mikel Arteta has refused to guarantee Matteo Guendouzi will be at the club next season after reports the French midfielder, 21, has asked to leave. (Guardian)
Manchester United have registered their interest in Guendouzi, while Barcelona, Paris St-Germain, Inter Milan and Atletico Madrid are also targeting the midfielder. (L'Equipe, via Mail)
Celtic will consider a move for Joe Hart, 33, after his release by Burnley, should the Scottish champions fail to get fellow English goalkeeper Fraser Forster, 32, on another loan from Southampton. (Telegraph)
Arsenal are tracking Portugal midfielder Danilo Pereira, with Porto willing to accept 20m euros (£18.2m) for the 28-year-old, and the Gunners remain interested in Atletico Madrid's Ghana midfielder Thomas Partey, 27. (ESPN)
Senegal defender Kalidou Koulibaly, 29, wants to leave Napoli this summer to play for Pep Guardiola at Manchester City. (Mundo Deportivo - in Spanish)
Inter Milan are close to signing Real Madrid's Moroccan full-back Achraf Hakimi, 21, who has been on loan at Borussia Dortmund, for about €40m (£35.8m) plus add-ons. (Guardian)
Arsenal target Layvin Kurzawa, 27, is set to sign a new four-year deal with Paris St-Germain when the French left-back's contract expires on 30 June. (RMC Sport, via Sun)
Birmingham midfielder Jude Bellingham, who has been linked Manchester United and Borussia Dortmund, can sign a professional deal when he turns 17 on Monday but has not yet told Blues boss Pep Clotet whether he's decided on his future. (Mirror)
Arsenal loanee Dani Ceballos has hinted at rejoining his first club Real Betis after the Spanish midfielder, 23, returns to parent club Real Madrid at the end of the season. (Marca)
Gimnasia y Esgrima La Plata manager Diego Maradona is hoping to bring ex-Brazil international Ronaldinho, 40, out of retirement to play for the Argentine side. (Marca)
Norwegian striker Erling Braut Haaland, 19, is not thinking about leaving Borussia Dortmund, despite being linked with Real Madrid and Manchester United. (Westdeutsche Allgemeine Zeitung - in German)
Tottenham have offered a new contract to winger Maurizio Pochettino, 19, who is the son of former Spurs boss Mauricio. (Standard)
Liverpool's Premier League title win will earn Southampton about £2.5m, as four players have add-on clauses from when the Saints sold them to the new champions. (Telegraph)
The Reds could end up paying more than £10m in bonuses, with Arsenal, Hull City and Charlton also set to profit. (Mail)
Juventus boss Maurizio Sarri does not know if Bosnia-Herzegovina midfielder Miralem Pjanic, 30, will stay at the club amid interest from Barcelona. (Sky Sports Italia, via Goal)
Argentine forward Carlos Tevez, 36, would not rule out returning to West Ham when his contract at Boca Juniors expires. (Radio La Red - in Spanish)
Sports Mole
Carlos Tevez open to West Ham United return?
Boca Juniors forward Carlos Tevez has suggested that he may consider a future return to West Ham United.
While Tevez made his name in English football at Manchester United and Manchester City, the Argentine initially spent a spell at the Hammers, scoring seven goals from 26 games in the Premier League during the 2006-07 campaign.
At a time when he could leave Boca next week, the veteran has mentioned the Hammers after being quizzed on who he could represent before the end of his playing days.
Speaking to Radio La Red, the 36-year-old said: "If I had to go back to Europe I would go to West Ham for six months to be applauded.
"Or spend six months at Corinthians. I won't rule anything out because I don't want to be a slave to my words."
Boca, Tevez's boyhood club, are said to have offered him a 12-month extension to his contract.
OS
Meet the Young Irons: Joshua Okotcha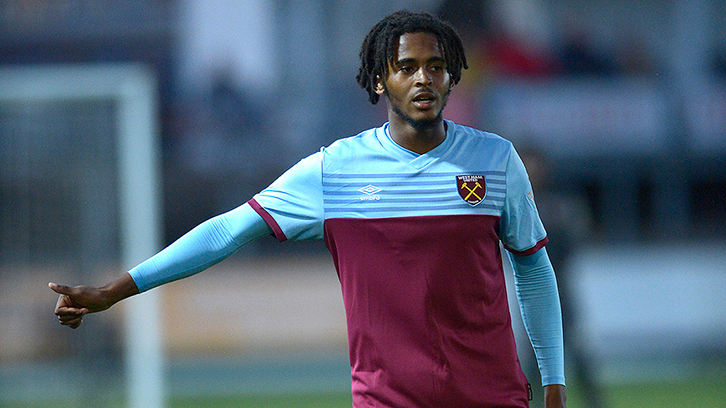 The mark of a good leader is being able to look forward at all times – and U18s captain Joshua Okotcha, who recently signed his first professional contract as a footballer, is always forward-thinking.
One of seven Academy of Football scholars to sign their first professional contracts as footballers earlier this month, 18-year-old Okotcha has opened an exciting new chapter in his footballing career.
Despite naturally holding onto some disappointment from this season just gone – the U18s were building impressive momentum and sat just three points behind the U18 Premier League South leaders, prior to the season's suspension – Okotcha is determined to channel that into motivation for his future as a professional.
"Signing a professional contract is something I've looked forward to for a very long time," Okotcha told whufc.com.
"Obviously around all the excitement, there was also a sense of relief, finally getting over that first hurdle! Then, it's a bit of a motivator – to kick on from this day to try and push on even more.
"I feel like, at the time we stopped last season, I was doing quite well and progressing. Now, having signed my first professional contract, I just want to kick on and get back to it – as soon as everyone can do so safely.
"It's definitely been one of my best seasons at West Ham. It's a shame that we didn't get to finish it because it would've been interesting to see how well we would have done as a team, but obviously we'll just have to pick up from that when we start again when this is all over. Hopefully I can push on even more in the new season."
Tall, strong and commanding, centre-back Okotcha is a naturally affable figure whose determination to be the best version of himself shines through in every word.
Having started playing football as an 11-year-old – comparatively late to most of his teammates – Okotcha joined the Academy of Football just a year later as a central defensive midfielder, before moving to defence two years later.
As an U15, Okotcha was awarded a full-time scholarship and moved to east London – staying at the 'Academy digs' house close to Chadwell Heath – a challenge he typically embraced.
"It was a different challenge being away from home, going into training every day, but it was something I got used to," Okotcha reflected. "Looking back on it, it's something I'm glad I did – it was a good experience.
"These two past seasons, as a scholar I've developed the most. There's been a bigger emphasis on just improving me as an individual player, and now here we are.
"I have to thank all the coaches I've had, because they've all played a role in my development and me getting to this point. This season gone, [U18s Lead Coach] Kevin Keen's played a big role and definitely put an emphasis on improving myself as a player, working on technique.
"Another two who would stick out are Gerard Prenderville when I was an U15, and Mark Phillips now as a scholar. Both two have definitely helped me on and off the pitch, helping develop my game and helping to build me as a character.
"When I have stepped up to the U23s as well, Steve [Potts] has helped me a lot. Obviously he played in a similar position to me, so he's definitely helped as well."
As for how he sees his own game, Okotcha pinpointed several areas he has focused on developing.
"I try to be quite an aggressive, dominant defender," he explained. "One of my technical strengths is my range of passing, which I'm always working on to improve, but I think I do read the game quite well.
"I'm also a very big communicator – I like to talk a lot when I'm on the pitch and help my teammates."
The journey is now set to continue for bright prospect Okotcha, who has seen friends including Declan Rice, Nathan Holland and Conor Coventry all make the step-up to the first team in recent years.
"I've played with all of them at some point during my time at West Ham, so I can relate to them and see it them as motivation to try and be in that position one day as well," he said.
"The sky's the limit – that's how I see it. I just want to see how far my ability can take me. I don't like to put a limit on stuff – I just want to keep progressing, keep pushing, and see how well I can do."
C&H
Dyche availability could give Hammers plan B
There is an unwritten rule in the Premier League that no manager can suffer six straight defeats in a row and survive. With three straight defeats in the Premier League against Arsenal, Wolves, Spurs Moyes has Chelsea, Newcastle and Burnley to stop the rot.
The board desperately want Moyes to turn things around and get vital points on the board but there will be limits and six straight defeats would most likely cross that line.
Insiders have indicated that they would stick by Moyes even if relegated but strings would be attached to that continuation and six back to back defeats would leave his future in serious doubt.
Meanwhile, it has been reported that Sean Dyche could be available this summer after allegedly falling out with his Burnley chairman.
The board are known big admirers of Dyche with Karren Brady often praising him in her Sun column.
The Daily Mail claim Dyche is considering leaving Burnley at the end of the season due to the deterioration in his relationship with chairman Mike Garlick, which other senior figures at the club fear is fractured beyond repair. The Burnley manager has been frustrated by the club's failure to agree contract extensions for several senior players this summer, and become further disillusioned in recent days after being told there will be little money for new signings when the transfer window opens next month.
Dyche has two years left on his contract – which if completed would see him spend almost 10 years at the club – but he could walk away prematurely the tabloid says.
While the board are currently backing Moyes 100%, Dyche could quickly become a plan B if Moyes fails to turn the hammers fortunes around.