BBC
Newcastle boss Steve Bruce is planning a summer move for Scotland midfielder John McGinn, 25, if Aston Villa are relegated. (Star)
Southampton manager Ralph Hasenhuttl has told Tottenham to make a good offer for Denmark midfielder Pierre-Emile Hojbjerg, 24, after Everton opened the bidding with a deal worth around £25m. (Evening Standard)
Leicester and Newcastle have joined the list of clubs interested in Norwich's English midfielder Todd Cantwell. (Mail)
Chelsea and Atletico Madrid are monitoring Ajax and Argentina full-back Nicolas Tagliafico, 27, who has been linked with Manchester City. (Sun)
Manchester City are determined to sign Valencia winger Ferran Torres but have told the Spanish club they will not pay more than 35m euros (£31.8m) for the 20-year-old Spaniard. (Marca)
Tottenham boss Jose Mourinho believes 19-year-old English midfielder Oliver Skipp, who has signed a new deal with the club, is a future Spurs captain. Skipp wants to go on loan to gain experience but Mourinho would prefer him to remain at the club. (Evening Standard)
Tottenham are set to complete the signing of Wigan's 15-year-old midfielder Alfie Devine. (Mail)
Manchester United will give Netherlands utility player Timothy Fosu-Mensah, 22, a chance to secure his long-term future at the club amid interest from clubs in Germany. (Manchester Evening News)
Former Spain goalkeeper Iker Casillas, 39, is returning to Real Madrid in an advisory role, five years after leaving to join Porto. (Marca)
Arsenal manager Mikel Arteta says he wants to keep France forward Alexandre Lacazette, 29, at the club. (Evening Standard)
If Lacazette or Gabon striker Pierre-Emerick Aubameyang, 31, leave this summer, the Gunners could target Celtic's French forward Odsonne Edouard, 22. (Bleacher Report)
Arteta insists his plea for investment into the squad earlier this week was not an attempt to send a message to Arsenal owner Stan Kroenke. (Express)
Barcelona coach Quique Setien admits he is unsure whether he will still be in charge for next month's second leg of their Champions League last-16 tie against Napoli. (AS)
Barcelona president Josep Maria Bartomeu has planned crisis talks with Setien. (ESPN)
Gent and Canada forward Jonathan David, 20, who is a reported target for Arsenal, says he wants to join Ligue 1 side Lille. (L'Equipe - in French)
After signing goalkeeper Wes Foderingham, Sheffield United will next target Reading's English midfielder John Swift, 25. (Mail)
Chelsea are weighing up whether to target a centre-back in the transfer window, with Germany's Antonio Rudiger, 27, and Denmark's Andreas Christensen, 24, yet to be offered new deals. (Goal)
Guardian
West Ham take huge step towards safety and push Watford closer to danger
Jacob Steinberg at the London Stadium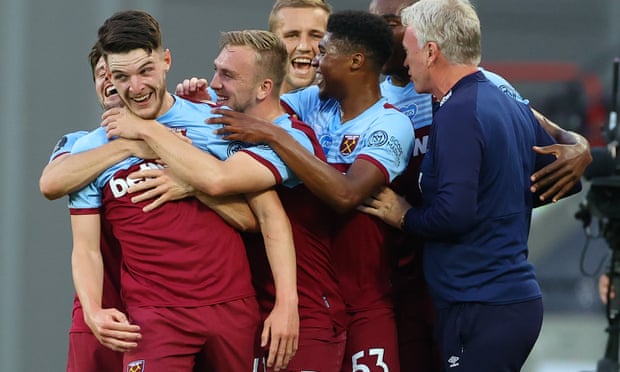 Declan Rice (left) celebrates with his teammates and manager, David Moyes, after putting West Ham 3-0 up in the win against Watford that all but guaranteed Premier League survival. Photograph: Richard Heathcote/Getty
It is no use waking up at half-time when Premier League survival is on the line. These are the contests that demand maximum intensity from the first whistle to last and West Ham were far more equipped than Watford to handle the pressure, moving within touching distance of safety after sweeping their relegation rivals aside with a scintillating first-half attacking display.
West Ham were solid, powerful and clinical when it mattered. Watford were the exact opposite: slow to react and short of fight. It was an atrocious effort from Nigel Pearson's side and although they remain three points above Bournemouth and Aston Villa, they risk replacing one of those teams in the bottom three if they defend this badly in their final two games.
At which point – deep breath – these are Watford's remaining fixtures: Manchester City at home on Tuesday and Arsenal away on the final day. Alarm bells are ringing. Watford have lost their previous two encounters with City by an aggregate of 14-0 and their goal difference is already under threat after taking a few dents from West Ham, who rose six points clear of the bottom three thanks to goals from Michail Antonio, Tomas Soucek and Declan Rice in the first half.
"I didn't think we were resilient enough," Pearson said. "It was not what I would expect from us. Whether that is the pressure of the situation, who knows. Now we have to find good performances in the last two games. We missed an opportunity. We haven't done what we talked about doing. It's annoying."
Watford deserved nothing despite a belated rally. They were timid without Étienne Capoue in midfield, shambolic at the back and incapable of containing West Ham's attackers, who ripped the game away from the visitors inside the first 10 minutes. "The big thing was to get a win and get ourselves up the table," David Moyes said. "It's not got us completely safe but it's got us in a really good position. We've done a good job."
It was too good for Watford, who allowed West Ham to take charge from the start. There were only six minutes on the clock when Antonio delivered the latest example of his improved finishing, collecting a flick from Pablo Fornals before firing past Ben Foster for his seventh goal since the resumption of the season.
You might have expected Watford to pay close attention to Antonio given that nobody in the division has scored more than the forward since lockdown. Yet they were not alive to the threat from a player who put four past Norwich last weekend and they were just as dozy when Jarrod Bowen crossed for Soucek, who rose unchallenged to head home.
There was no resistance as the Czech midfielder collected his third goal since joining West Ham in January. Soucek has been a smart addition from Moyes, who is entitled to feel he is on the right track. West Ham suddenly have a solid core; foundations to build on if they stay up.
Bowen, another good January signing, impressed on the right and West Ham pulled clear nine minutes before the interval. Rice drove inside and let fly from 25 yards. The ball swerved past Foster; a fine way for Rice to open his account for the campaign.
Watford were out early for the second half and Adrian Mariappa was on for Adam Masina, who paid for failing to deal with Bowen. West Ham crept back, inviting pressure. After 49 minutes Abdoulaye Doucouré went past Ben Johnson, a 20-year-old right-back starting for the first time since making his debut in February 2019, before beating Angelo Ogbonna. The midfielder's shot came back off the post and Troy Deeney finished the rebound.
Watford roared, like a Sunday League team shaking off the hangover. Yet West Ham, led by Mark Noble on his 500th appearance for the club, steadied themselves. They are almost home and dry. Watford, however, are in danger of sinking.
Telegraph
Michail Antonio fires West Ham's Great Escape as Watford get that sinking feeling
Sam Dean, at London Stadium
The smallprint says West Ham United's survival is still not guaranteed but, on a night like this, you would struggle to find anyone in claret and blue who cared about the maths. West Ham are as good as safe, even if official confirmation is yet to arrive, thanks to a 30-minute spell of glorious attacking football and a victory that could be their most important in years.
The relief could be seen in the celebrations of Declan Rice's sensational strike, the outpouring of joy at the end and, most of all, in the face of Mark Noble, who collapsed to the turf on the final whistle. This was the West Ham captain's 500th match for the club he loves, and there cannot have been many more satisfying nights in all those years of service.
In a game billed as a 'winner stays up' clash, West Ham's first-half blitz moved them six points clear of the relegation zone with two games remaining and a healthy goal difference next to their name. David Moyes and his players can breathe again, no doubt thankful for being able to enjoy the final week without the fear that will be sweeping through their counterparts at Watford.
Nigel Pearson had urged his team to play with freedom, despite the pressure. Instead they clammed up in an excruciating first half that will provide renewed hope for Bournemouth and Aston Villa behind them. Next up for Watford are Manchester City, and then Arsenal. It does not get any easier and, if they play anything like they did in the first half here, they will have no one but themselves to blame if they go down.
"There's no getting away from the fact this result is bitterly disappointing," said Pearson, who appeared to be struggling to contain his anger afterwards. "It's a really poor result for us. It's a case of finding solutions. I'll look at it again and the players will get honest feedback. There isn't time to dwell on it. It was not good enough."
Every great escape needs a hero and no player has proved quite so important, for any side in this relegation scrap, as West Ham's Michail Antonio. With seven goals since the restart, he has been the Premier League's most prolific player of the post-lockdown world. Rice helped out, too, scoring his first goal of the campaign at last, and there was another strike for Tomas Soucek, excellent again in midfield.
In that 30-minute frenzy at the start of the game, West Ham had everything that Watford lacked: energy, precision, firepower. The nerves crept in after the break, though, when Troy Deeney pulled one back for Watford and made this is a far more anxious second half than it should have been for the home side. After the class of Rice's goal, which he celebrated with his manager on the touchline, West Ham were forced to show a more dogged resilience at the end.
"We have not got it done yet," said Moyes, although he could hardly say otherwise. "It has obviously not got us completely safe but it has got us in a strong position. The players performed exceptionally well in the first half."
West Ham's early vigour would have felt doubly encouraging for Moyes because Soucek and Jarrod Bowen, his two January signings, were at the heart of all their good work. Soucek was involved in the opener, finding Pablo Fornals on the edge of the box. His chipped pass then found Antonio, whose firm strike skidded through the legs of Watford goalkeeper Ben Foster.
Only six minutes had passed at this point, and only four more went by before Soucek increased West Ham's lead with a gorgeous header from Bowen's cross. The home side could hardly have picked a better game to burst into life, with this the first time since September 2014 that they had scored twice in the opening 10 minutes of a Premier League match.
Watford were reeling and there was another blow to follow. With Noble in possession on the left wing, Pearson's voice could be heard across the London Stadium. "Stop the cross!" he yelled at his defenders. They listened, in the sense that Noble was unable to cross, but they did little to prevent the West Ham captain from finding Rice instead. His swerving strike ripped into the far corner. "It's the best I've scored," Rice said. "I scored two bangers in the warm up and the lads are always on to me to shoot more."
Watford regained some momentum when Deeney stabbed home shortly after the break, following a fine run by Abdoulaye Doucoure, but West Ham stood firm. The arrival from the bench of Sebastien Haller helped to rip the match away from the visitors, who must now be fearing the worst.
Mail
West Ham 3-1 Watford: Hosts on verge of Premier League safety after brilliant first-half display following goals from Michail Antonio, Tomas Soucek and Declan Rice before Troy Deeney's consolation
West Ham are nearly safe after beating Watford at the London Stadium
Michail Antonio opened the scoring after a fine left-foot strike early on
Tomas Soucek then thumped home an excellent header to stun the Hornets
Declan Rice scored from a wonderful effort to put the hosts three up at the break
Troy Deeney pulled one back early in the second half after Doucoure hit the post
By MARTIN SAMUEL FOR THE DAILY MAIL
Barring one of those situations in which fortune is not only hiding but lying in wait with a sock-full of lead, West Ham are safe in the Premier League for another season. Watford are very much not.
Their followers will now be anxiously looking at permutations and possibilities from the handful of fixtures that remain, and hoping to pick up points from remaining games against Manchester City and Arsenal.
Nothing can be guaranteed. Goal difference could well be a factor and Bournemouth's final matches are against Southampton and Everton. This is the chaos that West Ham have avoided, and deservedly so.
They have picked up ten points from seven games since Project Restart began. It doesn't sound much but a team who collected points for the entire season at that rate would be where Burnley are now.
And nobody can argue with the job they did last night, either. West Ham were 3-0 up after 36 minutes and while Watford pulled one back and applied pressure in a stressful second-half, given the circumstances that was only to be expected.
Better that than to slip beneath the surface lifelessly as Norwich did on Saturday. Watford lost, but they went down fighting at least.
Indeed, it says something of the trauma of West Ham's season that they were made to feel vulnerable even with a three or two goal cushion.
Then again, the six teams clustered at the bottom when restart began were not down there because they could be relied upon under pressure. Even David Moyes described West Ham as a club with a reputation for being flaky. They looked as surprised as anybody to be three goals clear in a match they had to win.
It left them in a dilemma, though: push on in search of absolute closure in the second-half, or hold what they had. That probably led to them falling between two stools, sitting too deep, losing some tempo, scared of taking a risk.
There were ten minutes remaining when a cross popped up off the toe of Danny Welbeck directly in front of goal; and had that gone in who knows how this could have finished? West Ham have dropped more points from a leading position than any other team in the Premier League this season; it was a very good night to get out of that particular habit.
And a good night, too, for making their best start in close on six years. Two goals up inside ten minutes for the first time since September 2014. That must have been an extraordinarily pleasant sight for West Ham's directors and staff, who have endured some very awkward occasions in the London Stadium this season.
One can only imagine the tension inside the ground as kick-off time approached had there been a full house for this fixture and West Ham may be the only club to have benefitted from the echoing emptiness when playing at home.
Certainly, they got off to an absolute flier here, ahead after six minutes, doubling the lead after ten and three goals to the good nine minutes before half-time.
It says something about the intensity of West Ham's season that, rather than look forward to another 45 minutes with a three goal cushion, many of the regulars here would have been wishing Martin Atkinson's half-time whistle had actually signalled the end of the match. Nothing can ever be taken for granted down the bottom.
Except, perhaps, a goal from Michail Antonio in his current form. Four at Norwich on Saturday, the most prolific scorer since restart followed them with the opener here, which settled nerves and rattled Watford, from the first potent attack of the game.
It was sloppy from Watford who had several chances to clear, before Tomas Soucek found Pablo Fornals with a pass inside. Fornals flicked the ball on beautifully into the path of Antonio who, brimming with confidence, stuck it smartly through the legs of goalkeeper Ben Foster.
Michail Antonio opened the scoring for the hosts following an excellent left-foot strike
The fans have often been at war with the board in recent years, but one thing it is hoped everybody could agree on is that West Ham had a very good January transfer window. Soucek has proven a crucial buy, as has Jarrod Bowen, and both men combined for West Ham's second.
The cross came from Bowen on the right and Soucek, whose power in the air has been a genuine attribute since the restart, rose on the run at the far post to leave Foster with no chance from close range. It was Bowen's fourth assist since football re-emerged – the same as Bruno Fernandes, with considerably less fanfare.
Tomas Soucek delivered a thumping header into the corner to put them two up
Watford had their chances on the counter-attack, mind, mainly through Ismailia Sarr. He forced a save from Lukasz Fabianski after 12 minutes, and Angelo Ogbonna made a fine tackle to keep him out again 20 minutes later.
Then came the goal that pretty much put the game beyond Watford's reach. Mark Noble, playing his 500th match for West Ham and what a player he has been for them, laid the ball back to Declan Rice on the left, and he curled a fabulous shot out of Foster's reach. It was his first goal for club or country in 42 games this season. Again, it's all in the timing.
Declan Rice's wonder goal sent West Ham well on their way to all but securing safety
And West Ham would have been very thankful for Rice's intervention given what happened next. In first-half injury time, a centre from Kiko Femenia picked out Craig Dawson who really should have done better with his header from the heart of the area.
Then, four minutes after half-time, a lifeline. Welbeck slipped in Abdoulaye Doucoure who surged into the box, aided by weak defending from Ogbonna, his shot hitting the far post.
Out it come to the feet of Troy Deeney, fastest to react and slotting the ball into a scarcely protected net. West Ham became nervous, but it was Watford who will be made to sweat from here.
MATCH FACTS
WEST HAM UNITED (4-3-2-1): Fabianski 6; Johnson 6.5, Diop 6.5, Ogbonna 7, Cresswell 6.5; Rice 8, Noble 6.5, Soucek 7.5; Bowen 7.5 (Yarmolenko 81min), Fornals 6.5 (Haller 72, 6); Antonio 7 (Balbuena 90)
Subs not used: Lanzini, Anderson, Masuaku, Randolph, Wilshere, Coventry
Goalscorers: Antonio 6, Soucek 10, Rice 36
Manager: David Moyes 7.5
WATFORD (4-2-3-1): Foster 5; Femenia 5.5, Kabasele 5.5, Dawson 5.5, Masina 3.5 (Mariappa 46, 5.5); Cleverley 6, Hughes 6; Sarr 7, Doucoure 7 (Chalobah 72, 6), Welbeck 6 (Pedro 86); Deeney 7 (Gray 67, 6)
Subs not used: Pereyra, Pussetto, Gomes, Quina, Cathcart
Goalscorer: Deeney 49
Booked: Cleverley, Hughes
Manager: Nigel Pearson 5.5.
Referee: Martin Atkinson 6.5
OS
Academy signs up new Scholar Coddington
West Ham United are pleased to confirm that promising youngster Remy Coddington has signed a full-time Scholarship at the Academy of Football.
An international for Bermuda at youth level, midfielder Coddington joins the Club from AFC Bournemouth.
The youngster was in particularly impressive form for his home nation at last summer's CONCACAF Boys' Under-15 Championship in America, netting three goals in four games as Bermuda topped their group on the way to the Division 2 semi-finals.
The 16-year-old joins eight other youngsters at the Academy in recently putting pen-to-paper on two-year scholarship deals, which has seen them transfer from being schoolboy players to a full-time, scholarship programme.
Coddington will now look forward to the challenge of furthering his fledgling career at West Ham with Kevin Keen and Mark Phillips' Under-18s side next season.
Academy Manager Ricky Martin said: "I'm delighted that we've been able to secure a player of Remy's potential.
"Remy was identified via the Recruitment department, whom I'd like to thank, and things have moved quickly in the last week or so. Remy will be moving into the Academy House and will start his scholarship journey on Tuesday next week, along with the other Under-18 players.
"I'd like to welcome Remy to the Academy and wish him every success. He is a very talented young player and when I met him last week, I was also impressed with his maturity, enthusiasm and character, and I am confident he will settle in well to Kevin Keen's and Mark Phillips' youth team."