BBC
Barcelona have made Manchester City's 19-year-old Spanish centre-back Eric Garcia their top transfer target this summer. (Goal.com)
Chelsea are close to agreeing a structured transfer deal with Bayer Leverkusen for 21-year-old Germany playmaker Kai Havertz. (Teamtalk)
Arsenal striker Pierre-Emerick Aubameyang explored a move to Chelsea in January but the Blues could not meet the 31-year-old's high wage demands. (Mailonline)
Napoli president Aurelio De Laurentiis has suggested Senegal centre-back Kalidou Koulibaly could be allowed to leave the club if his £81m asking price is met. (Sky Italia, via Metro)
Everton have bid £18m for Real Madrid's 23-year-old Spanish left-back Sergio Reguilon. (Sky Sports)
Ole Gunnar Solskjaer wants Manchester United to accelerate their pursuit of Borussia Dortmund and England forward Jadon Sancho, 20, to avoid a repeat of last summer's protracted move for Harry Maguire. (ESPN)
Borussia Dortmund could try to sign Netherlands and former Manchester United winger Memphis Depay, 26, from Lyon if United sign Sancho. (Bild - in German)
Manchester United would need to be informed if Borussia Dortmund make a bid for Depay because of a clause they put in the deal when selling the Dutchman to Lyon. (Star)
Barcelona midfielder Philippe Coutinho, 28, has been offered to Arsenal and Tottenham Hotspur, with one possibility seeing the Gunners sign the Brazilian as Barca get £9m and French midfielder Matteo Guendouzi, 21. (Independent)
Real Betis are interested in signing Arsenal target Dani Ceballos. The 23-year-old Spanish midfielder is on loan at Arsenal from Real Madrid. (Onda Cero, via Sun)
Barcelona and David Beckham's Inter Miami have made contract offers to Chelsea's Brazilian winger Willian, 31. (Sky Sports)
Bournemouth striker Callum Wilson, 28, has told team-mates he needs to leave for a Premier League club to maintain his England hopes. (Telegraph)
Tottenham are not willing to sell French midfielder Tanguy Ndombele, 23, despite interest from Inter Milan. (PA, via the42)
Fulham, Bournemouth and Stoke City are all interested in 21-year-old English striker Mallik Wilks, who only joined Hull City permanently a month ago. (Football Insider)
English right-back Jeremy Ngakia, 19, is close to joining Watford on a free transfer after leaving West Ham. (Guardian)
Guardian
Jeremy Ngakia set to link up with Watford after leaving West Ham
Young full-back turned down contract at London Stadium
Ngakia steps down to Championship to join the Hornets
Jacob Steinberg
Jeremy Ngakia is close to joining Watford after leaving West Ham on a free transfer when his contract expired at the end of June.
The 19-year-old right-back turned down West Ham's offer of a new long-term deal and even rejected their attempts to persuade him to sign a short-term extension until the end of the season. He departed when David Moyes's side still had seven league games left and were battling to preserve their Premier League status.
Ngakia did not see his future at West Ham despite being handed his debut by Moyes earlier this year. However the news that he is set to sign for Watford has raised a few eyebrows at the London Stadium. While West Ham stayed up, Watford were relegated to the Championship after sacking their manager, Nigel Pearson, with two games to play.
West Ham battled on without Ngakia and were able to give an opportunity to another young right-back, Ben Johnson, towards the end of the campaign.
Moyes wants reinforcements in the position, though, and is eyeing a move for Slavia Prague's Vladimir Coufal. The Czech defender has a year left on his current deal and could be available for no more than £4m. He is a former teammate of Tomas Soucek, who signed for West Ham from Slavia last week.
C&H
Hammers eye exciting Cherries midfielder
West Ham would do well to keep a keen eye on the Bournemouth situation as the transfer window dealings get underway this summer.
For there are three players in the relegated Cherries squad who are already being mentioned as potential targets for various clubs.
And one in particular – David Brooks – a highly skilled Welsh attacking midfielder looks exactly the type of player to take over the Lanzini or Anderson role at the club .
Sky Sports have reported the Hammers have an interest in the 23 year old who looked a real talent when Eddie Howe's outfit beat Leicester City who are also reportedly interested in the player.
He only managed nine games last season- mainly due to injuries – but showed enough to attract ours and Leicester's attention along with Newcastle and Palace.
We know Moyes is keen on QPR attacking midfielder Eberechi Eze but Brooks would be a player in the same creative ilk should he fail.
The Cherries may also be ready to receive bids for Callum Wilson or Josh King as Howe builds again for a promotion challenge.
Once again however, and it has to be said, prices will dictate.
Media Referee
West Ham keen on signing 18-year-old Ligue 1 starlet – A good signing for the future?
Why Chrislain Matsima would be a good future investment for West Ham
According to Daily Mail, West ham are keen on signing AS Monaco starlet Chrislain Matsima ahead of the next season.
Matsima, 18, spent time at the academies of Nanterre and AF De La Garenne-Colombes before joining Monaco's youth system in 2017. He was immediately promoted to the club's B side and has impressed so far. He recently made his debut for the senior team in a friendly against Standard Liege and is considered to be one of the best young talents in Europe.
He has also been part of France's various age-group sides. He has also captained the nation's U18 side on a couple of occasions so far. His impressive performance with Monaco's youth teams has garnered the attention of several top clubs including Juventus and Atletico Madrid, as per the report. Thus, West Ham should make a swift move for the teenager.
The Hammers, meanwhile, have managed to secure their top-flight status after two wins and two draws in their last four league games. They finished the season in the 16th position, five points clear of the relegation zone.
With the season done and dusted, the manager should focus on taking West Ham to a higher level as they have been finishing in the second half of the table for quite a few years. And this can happen only if they bring in reinforcements to the squad at the earliest and prepare for the future.
Matsima could be a good replacement for West Ham star Angelo Ogbonna
Moyes needs to focus on strengthening the backline, first and foremost. The East Londoners conceded 62 goals this term and that doesn't sound good for a club aiming for a higher place finish next season. At the moment, only three established centre-backs are available.
Issa Diop and Angelo Ogbonna have been regular starters but Fabian Balbuena has been unconvincing. Apart from them, the Hammers have young Goncalo Cardoso. Moreover, Balbuena has only one more year left on his contract with the club and Ogbonna, who is 32, is reaching the twilight of his career. Hence, they need to bring in a young defender with a view for the future.
Hence, a move for Matsima seems to be a sensible option by the club as he can be a future replacement for Ogbonna, while he would add immediate depth to their defensive unit. He may not walk straight into Moyes' starting XI but he can be given the right opportunities to develop himself. And the fact that several top clubs are interested in signing him proves his qualities.
Verdict
With a lack of quality in their backline and Ogbonna ageing, it is clear that the Hammers are in dire need of defensive cover for the future. And Matsima would be a prospect worth signing. He can go on to represent them in the long run if he is able to develop himself and prove his worth.
OS
Academy Spotlight: Mesaque Dju
A hugely popular player and figure at the Academy of Football, meet Mesaque Dju - in his words.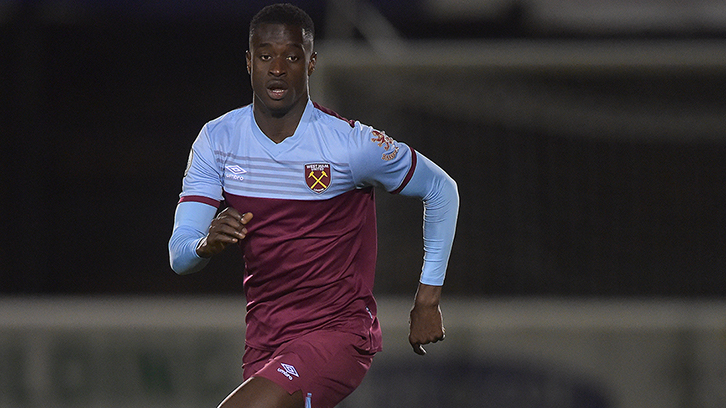 From beginning his footballing career as a goalkeeper to the words of advice he carries from his idol Cristiano Ronaldo, 21-year-old winger Dju is hoping to show his undoubted skills on the pitch once more next season.
My Roots
The first team I played for back in Portugal was called Estrela da Amadoro. I was very young, and that was back when football was very new to me. I got a chance to see the stadium and then I had a trial with them, and they said that they liked me, so I signed for them straight away!
A big inspiration for me growing up was wanting to play for Benfica. My father is a fan of the club and that was a great motivation for me to try and play for them. On the pitch I spent more time learning to play with my brother and my friends before a career in football became a more serious option. I was only ten or eleven, playing against my friends who were 17 or 18, and that helped me develop a lot quicker at a younger age.
I haven't always been a winger - believe it or not, I actually started off as goalkeeper when I first played football! Then, once I moved to Portugal, I moved to centre-back, but I didn't stay there long because I kept running out of defence and doing skills, so I was switched to the wing.
The most difficult thing about being a young footballer for me has been living away from my family. I know they're proud of me and what I'm achieving and that's the most important thing.
My Inspirations
My idol growing up was Cristiano Ronaldo because he was one of the first players that I got the chance to watch on TV.
His skills and talent are undeniable and for me there is not much competition in terms of who I look up to. I've been lucky enough to meet him and speak to him and he told me: "Never give up, your moment will come." That's something I always carry with me.
My Teammates
I've got a lot of good friends in the squad, so this is very difficult, but I'd say my best friends are Xande Silva, Bernardo Rosa and Gonçalo Cardoso. They're all great guys and obviously we have the Portuguese connection, so to pick one would be too difficult.
I'd say that Nathan Holland has the most natural talent in the squad - he makes it all look so easy regardless of whether it's in training or in a match. He's great to watch!
We've got a great environment in the dressing room and we're always laughing and joking together but I think Joseph Anang is the biggest practical joker. He's so funny, he always plays really funny music and dances around the dressing room.
After a match we're always waiting on Xande Silva! He wants to go on his phone and call everyone, so when we're playing away games, he's always the last on the bus.
FIFA, Films & Food
I play FIFA from time to time and normally I play as Real Madrid. They've got such a good team on FIFA, it's easy to always be them! But I don't always like to play PlayStation; I much prefer to play pool or table tennis. I think I'm the best in squad at table tennis. We haven't played in a long time, so we'll have to see soon.
My favourite TV series at the moment is Power, but I also quite like Narcos - they're both really exciting. In my spare time, I watch quite a lot of Netflix and my favourite film is probably Bad Boys. It's so funny! I went to watch the new one in the cinema and really enjoyed it.
I have quite a wide range of music tastes. I like rap but I also like Portuguese music. Two of my favourite artists are Drake and Lil Baby, but I like to mix it up quite a lot.
My favourite food is really simple: I really like chicken and rice with a bit of salad. I try to keep it healthy but sometimes I like to have a pizza or a burger, especially in the off-season. If I go out to eat, I normally go to Nando's, when I first moved to England, I went all the time, but not so much now.