BBC
Arsenal have made Real Madrid's Spain forward Isco, 28, their number one target when the transfer window opens in January. The Gunners, who want to sign the player on loan, face competition from Sevilla. (AS, via Metro)
Netherlands midfielder Georginio Wijnaldum, 30, will decide this week whether to sign a new Liverpool contract as Ronald Koeman remains hopeful of persuading the midfielder to join him at Barcelona. Wijnaldum, who has been at Anfield since 2016, is out of contract in June. (Sky Sports)
Those close to Wijnaldum say he is desperate to stay at Anfield. (Liverpool Echo)
Manchester City remain hopeful of signing Barcelona's Argentina forward Lionel Messi, 33, in 2021, despite the Barca captain saying recently he hopes to one day play in the United States. (Telegraph)
Mauricio Pochettino is expected to try to sign a number of Tottenham players, including England midfielder Dele Alli, 24, and 34-year-old France goalkeeper Hugo Lloris, if the Argentine is confirmed as Paris-St Germain's next boss. (Eurosport)
Wolves could turn to Diego Costa, 32, as a replacement for injured Mexico forward Raul Jimenez, 29, after the Spain forward agreed to end his contract at Atletico Madrid and become a free agent from January. (Times - subscription required)
Manchester United's Dutch defender Timothy Fosu-Mensah is a target for Marseille and Hertha Berlin in January. (Football Insider)
Tottenham are interested in signing Austria midfielder Marcel Sabitzer, 26, in January, say his club RB Leipzig. (Evening Standard)
Arsenal are currently unlikely to rekindle interest in Lyon's 22-year-old France midfielder Houssem Aouar when the transfer window reopens at the start of January. (The Athletic - subscription required)
Manchester City's Dutch winger Jayden Braaf, 18, is being pursued by Borussia Dortmund. (Bild)
Liverpool have ended their interest in Inter Milan centre-back Milan Skriniar, 25, having been put off by the Serie A side's £54m asking price for the Slovakia international. (Calciomercato - in Italian)
Chelsea's Spanish full-back Marcos Alonso, 30, is set to return to Spain and join Atletico Madrid on loan in the January transfer window. Alonso has not played for the Blues since 26 September. (Independent)
Newcastle are keen on Manchester United full-back Brandon Williams, 20, while the Magpies' American defender DeAndre Yedlin, 27, is being pursued by Turkish side Trabzonspor. (Newcastle Chronicle)
Crystal Palace expect January interest in Wilfried Zaha after the Ivory Coast winger's impressive start to the season and AC Milan are thought to be keen on the 28-year-old. (Mirror)
Leicester City manager Brendan Rodgers does not expect to sign anyone in January. (Leicester Mercury)
Former England and Juventus boss Fabio Capello says he would only swap Juve's Argentina forward Paulo Dybala, 27, for Tottenham's England striker Harry Kane, 27. (Gazzetta dello Sport)
Shamrock Rovers' Republic of Ireland midfielder Jack Byrne, 24, who has been linked with Stoke City, Preston and Nottingham Forest, is expected to move to Cyprus rather than England. (Sentinel)
Guardian
Southampton share points with West Ham thanks to McCarthy's late save
Ben Fisher at St Mary's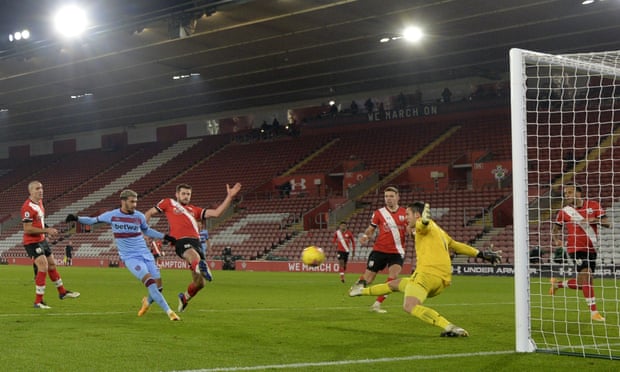 Alex McCarthy blocks Saïd Benrahma's close-range effort in the final moments at St Mary's. Photograph: Justin Tallis/AP
Working from home has become the norm for many this year but for Ralph Hasenhüttl, an animated character in the most straightforward of games, this will have proved a trying exercise. Taking charge of Southampton remotely after a member of his household tested positive for coronavirus, the Saints manager presumably spent much of this game kicking his heels and banging the armrest in frustration after his side crept to a point against West Ham. By the end Hasenhüttl said he was close to vaulting himself towards his television in irritation.
A dull stalemate was not how either side wished to cap 2020 but a testing year has harvested largely positive results for Southampton, who have won more points in that period than every Premier League side barring Liverpool, Manchester City, Manchester United and Chelsea. That may be a meaningless feat but it does underline the progress under their manager.
"Getting 56 points in 2020 is amazing for us. It's much more than we expected," Hasenhüttl said. "I'm happy and proud of the work the team has done this year. We are much more stabilised now. From where we were coming to now, it is a big step forward. But what I think is missing at the moment is the final punch. It's not so easy for us to score at the moment."
A superb left-handed save from McCarthy prevented West Ham from smuggling victory six minutes from time. One substitute, Jarrod Bowen, worked the ball to another, Said Benrahma, via a deflection off Ryan Bertrand but McCarthy stood tall when West Ham sensed blood.
Benrahma feasted on a poor clearance by Jack Stephens and jabbed the ball goalwards but could not beat McCarthy from close range.
Both Southampton and West Ham had hoped to erase any gnawing self-doubt but both are now four games without victory. Southampton shaded a bitty first half in which West Ham's quartet of attacking players, including Manuel Lanzini and Andriy Yarmolenko – two of five players promoted to the starting lineup – had to dig in to do the dirty work.
David Moyes conceded his side failed to give Brighton enough to think about during the first half on Sunday and, while they again struggled to fashion clearcut openings, Lanzini was presented with an opening just before the interval after Aaron Cresswell freed Pablo Fornals, only for the Argentinian to drive over while off balance. Ryan Fredericks, too, should have done better when heading straight at McCarthy from close range.
On the touchline in Hasenhüttl's absence was Richard Kitzbichler, his right-hand man. Hasenhuttl stayed in contact with his staff via video link and communicated with his players before the game and at half-time.
Southampton kept West Ham at arm's length and with shots on goal hard to come by, Theo Walcott took aim from distance on the hour mark but his dipping effort failed to trouble Lukasz Fabianski. Southampton turned to Shane Long for a spark but a stubborn West Ham backline refused to surrender any ground.
A stop-start first half was bogged down by offside calls and cheap fouls, one of which handed Southampton a golden chance when Craig Dawson, making his first Premier League start for West Ham since joining on loan from Watford in October, upended Che Adams. James Ward-Prowse stood on the edge of the D with the ball sandwiched under his armpit and West Ham feared the worst, but his free-kick sailed over. The returning Danny Ings put the ball in the net after six minutes but Adams had strayed offside.
"This is much better, well done, keep it up," said Declan Rice, the West Ham captain, rallying the troops a few minutes into the second half but little, in truth, had really changed. Moyes introduced Benrahma and then came Bowen and Michail Antonio, for his first outing since November following a hamstring injury. "We've missed him," Moyes said. "We've been muddling through a little bit and trying to find goals from other sources.
It's a big boost to have him back."
With 20 minutes to play Tomas Soucek squandered an inviting opportunity, failing to test McCarthy after meeting a deep free-kick. At the other end, Kyle Walker-Peters had a tame effort saved by Fabianski after Walcott turned on the afterburners. But neither team turned up the heat often enough.
Telegraph
Southampton and West Ham play out drab draw with both sides looking flat
Hosts missed coach Ralph Hasenhuttl who had to watch the match from home after being forced to self-isolate
By Tom Prentki
Danny Ings was back in the starting line-up for Southampton but looked far from his razor-sharp best Credit: SHUTTERSTOCK
When Ralph Hasenhuttl is in the building, you tend to hear him long before you see him.
The Austrian barks instructions to his Southampton players throughout the 90 minutes, orchestrating their carefully structured pressing game and picking up on every error, however minor.
Three hours before this stalemate with West Ham, it was announced that the Southampton manager would be forced to isolate at home after a member of his household tested positive for Covid 19 the day before the game. It is unclear whether he will be able to be at St Mary's for next Monday's visit of Liverpool.
"Horrible" was how he described the experience of missing the game. "Before the game it was good. I could do the meetings, I was in the dressing room talking to them, also at half-time. The difficulty was that I didn't have the live picture and that makes it difficult to coach and concentrate on the game. Hopefully I'll be back very soon."
In his absence his side were tenacious, compact and often on the front foot but they lacked something in Hasenhuttl's absence with assistant manager Richard Kitzbichler taking his place in the dugout.
"What we are missing is the final punch in the final third. It's not so easy for us to score for us at the moment," said Hasenhuttl, whose team have now gone three games without scoring.
"With a bit more luck I think we could have scored. The decision making is not quite there."
David Moyes is someone who can empathise with his opposite number. The West Ham manager was forced to miss four games after contracting the virus himself in September and he was satisfied with this point having made changes amidst a frenetic fixture schedule.
"Pleased because we kept a really good clean sheet. I thought there were some new boys coming into the game and they did really well," he said.
"It wasn't a bad point, we're pleased with it but we probably had the best chance of the game so we're disappointed not to win in the end.
"We play again in three days time. I'm not moaning because it's the Premier League but I would like it to be where both teams have a similar situation."
Saints had lost their past five Premier League games against the Hammers but were dominant early on and had the ball in the back of the net after Danny Ings' tidy finish. Che Adams was rightly flagged offside in the buildup.
As West Ham gradually worked their way back into it, Craig Dawson had a sight of goal but connected painfully with Adams' head as he tried to fire the ball over the line.
West Ham began the second half with much more intent and Andriy Yarmolenko began to prosper on the right, drawing a foul which earned Ryan Bertrand a booking and causing frequent alarm as he darted across the Saints' penalty area.
Much of the incisive attacking that has propelled Southampton up the table was again in evidence but without the final, decisive touch.
Theo Walcott's shot from distance was a more direct attempt but Lukasz Fabianski saved comfortably.
Kyle Walker-Peters did find space for a shot but his effort was tame and Fabianski saved easily.
The Saints stopper then made an outstanding save to deny Said Benrahma after Southampton had made a mess of clearing the ball and he found himself clear a yard out before McCarthy somehow clawed his shot away from point-blank range.
Moyes was able to bring on Michail Antonio for the final 15 minutes following a hamstring injury for last season's top scorer.
"We've been muddling through a bit recently, trying to find ways of getting goals from other sources – and the lads have been great with that - but we have to take him carefully.
Southampton would have returned to the top six with victory here and that remains a realistic target for both clubs in the second half of the season.
"It was the end of a very very good year for us. I think we took 56 points and I must say the defence is perfect in the last few rounds," concluded Hasenhuttl.
Planet Football
An ode to Tomas Repka at West Ham: The angriest footballer in history - Nostalgia
Anger is one of life's most misunderstood emotions.
We often describe someone as 'angry' when 'frustrated', 'irritated' or 'annoyed' would be more appropriate. Most of us feel angry only occasionally, the rarity enhancing the intensity of which we experience the descending of the red mist.
Tomas Repka lived in a permanent state of anger. Despite playing in Serie A and the Premier League and enjoying a seven-year international career with the Czech Republic, Repka was notorious for his furious outbursts that made Roy Keane appear kitten-like by comparison.
With more loose screws than an entire B&Q outlet, the defender lived his life just as intensely off the field. Scientists estimate that Repka has only experienced a handful of quiet nights in throughout his entire existence.
Making his name during the dissolution of Czechoslovakia in the 1990s, Repka was noted for his prodigious heading ability and crunching tackles. Already known for wearing his heart on his sleeve, he missed the Czech Republic's run to the Euro 96 final after receiving a two-match ban for being sent off before the tournament.
This full-bodied commitment caught the eye of Fiorentina. Moving to Tuscany in 1998, Repka joined the likes of Francesco Toldo, Manuel Rui Costa, Gabriel Batistuta and Nuno Gomes during arguably the club's most evocative era.
Unfortunately, Repka proved to be the salt in a delicious stew during his spell in Italy. Sent off six times across three seasons with Fiorentina, Repka cemented his reputation for hot-headedness. Any man prepared to square up to Pierluigi Collina deserves our utmost respect for sheer reckless naivety.
With their own reputation for hot-headedness and a fanbase with an indulgence of lunatic skinheads, it was no surprise that Repka attracted the attention of West Ham United. Signed in the summer of 2001, the Hammers believed this was the man who'd provide the defensive steel that would allow young starlets like Joe Cole, Michael Carrick and Jermain Defoe to flourish.
These hopes ignored all precedents from Repka's career to date. Sent off on his debut at Middlesbrough, Repka was also expelled from the field during a 7-1 spanking at Blackburn – his third appearance for the club.
In his match report for The Guardian, Daniel Taylor delivered a line of tinder-dry brilliance: 'If he makes it a hat-trick in his next outing, one wonders whether he'll get to take the referee home.'
Things deteriorated to the extent that, after another sending off against Fulham on Boxing Day 2002, Jon Brodkin wrote in The Guardian that Repka 'would not be missed if he never played for West Ham again'. After re-defining the word anger, Repka was providing a free jazz interpretation of the term 'liability'.
Yet by the time of his departure, Repka had become something of a cult figure at Upton Park. Relegated in 2003 despite a record-high 42 points, which ensured the fire sale of the club's family silver, Repka remained loyal to West Ham during their spell in second-tier purgatory.
Crucially, he was moved to right-back under Alan Pardew, where his frequent outbursts were less detrimental to the club's form. True, he was sent off for a headbutt during a miserable home defeat to Preston in March 2005, but Repka gradually cleaned up his game and allowed his defensive fortitude to speak for itself.
Despite this, it would be a stretch to call Repka a tamed beast. Neil Mellor only spent a few months at West Ham, but much of that time was focused on ensuring he stayed on the right side of his wild team-mate.
In an interview with The Sportsman, Mellor said: "The only person I saw get on the wrong side of him was a car valet man who crashed his car just before Christmas. The car was a £100,000 Ferrari, so it wasn't ideal. It took about 10 of us to stop Repka from filling in this car valet man!"
After helping West Ham regain their Premier League status, Repka departed for Slavia Prague in January 2006. During his final home match, under the floodlights against Fulham, chants of "one Tomas Repka" reverberated around Upton Park. This was enough to move Repka, a man who was chiselled rather than born, to tears.
He did not mellow after returning to his homeland. Some of his more notable incidents included attacking the match officials and cameraman in 2007, being caught cheating on his long-term partner with a Playboy model and the usual collection of red cards and crippled opponents.
With tattoos covering his body, this is not someone you'd wish to bump into down a darkened alley.
He's also been sent to prison on two occasions. In August 2018, Repka received a six-month jail sentence for advertising sexual services on the internet in the name of his ex-wife, although this was later reduced to a community sentence order.
Then, in February 2019, he was sentenced to 15 months in jail for fraud after selling a luxury rental car he didn't own. Later that month, two previous suspended sentences for driving under the influence were converted into jail terms due to his other convictions.
Put simply, Tomas Repka has spent his entire life one misplaced look away from outrage. Goodness knows how high his blood pressure must be at any given moment.
Yet given the banality of most of our lives, we cannot help but have a begrudging respect for Repka and the full-bodied commitment to living life to its most extreme.
Admittedly, that's about the only thing we'd dare say to his face.
By Michael Lee
Sempre Inter
Italian Journalist Nicolo Schira. "West Ham In Talks With Inter Over Christian Eriksen Who Is Waiting For PSG"
Premier League club West Ham United have started talks with Inter over a loan move for out of favour attacking midfielder Christian Eriksen according to a report from Italian football journalist and transfer market expert Nicolo Schira.
Eriksen is widely expected to bid farewell to Inter next month following a disastrous spell with Inter which began last January when he arrived in a circa €20 million deal from Tottenham Hotspur.
Whilst West Ham United are keen on a loan move for Eriksen, Schira goes on to claim that Eriksen is waiting for Paris Saint-Germain, who are about to appoint his former Tottenham Hotspur manager Mauricio Pochettino.
Eriksen has made 12 appearances across all competitions to date for Inter this term, the majority of which have come as a substitute.
The Danish national team representative has failed to make any goal contributions during his time on the park thus far which totals just under 400 minutes.
SportsLens
West Ham United keeping tabs on Brentford midfielder Josh Dasilva
According to The Guardian, West Ham United are keeping tabs on Brentford midfielder Josh Dasilva ahead of next month's winter transfer window.
The Hammers have kicked off the 2020-21 English Premier League campaign with six wins and five draws in 16 games, scoring 23 goals.
Manager David Moyes is keen to bolster his side's creative midfield options and has also been linked with an interest in Inter Milan's Christian Eriksen.
However, the Dane's huge wages could deter West Ham from sealing a deal, and Dasilva would be a cheaper and affordable option.
While the 22-year-old doesn't boast of Eriksen's quality, experience or profile, he has the potential to go all the way to the top and conquer the English top-flight.
The Brentford star scored 10 goals and assisted four others in 45 Championship games last term as the Bees reached the play-offs finals.
Dasilva has four goals and three assists in 25 appearances this term, including the winner as Brentford reached the semi-finals of the League Cup last week.
West Ham could do with his creativity in the middle of the park, but he won't come cheap after Brentford stood firm over their valuations of Ollie Watkins and Said Benrahma in the summer.
The England youth international put pen to paper on a new deal in October, and prising him away from the promotion-pursuing side mid-way through the campaign won't come easy.
Dasilva is a former Arsenal youth player who was handed his debut by Arsene Wenger in 2017, and he was converted from a striker to a midfielder as a boy by Thierry Henry.
He turned down a contract offer at the Emirates to join Brentford the following year, and playing Premier League football is a matter of when not if.
Dasilva won't be short of suitors next month and going forward, and West Ham could be landing a prospective world-beater if they sign him in the coming days.